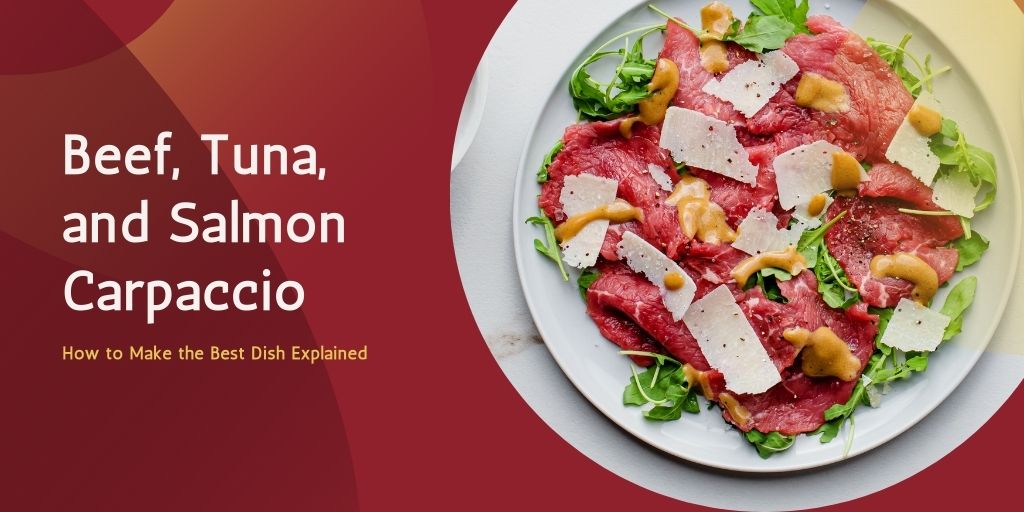 You don't have to be Italian to appreciate a good carpaccio. You also don't have to be Italian to make a mouth-watering carpaccio dish. With so many versions of this delicious dish, how do you choose which to make?
Italian restauranteur, Giuseppe Cipriani, opened a bar and restaurant in Venice, Italy, named Harry's in 1950. Upon opening his popular establishment, Cipriani developed both the famed drink bellini and the appetizer he called carpaccio. The dish was favored among patrons and often sold out nightly.
It is said that Capriani invented the famed dish after a guest at Harry's Bar requested a plate of raw meat and was served carpaccio.
What is Carpaccio?
Carpaccio requires minimal cooking, and because you are dealing with raw meat, the protein quality is essential. Make sure that you let your butcher know you are making carpaccio. Also, make sure that you keep the meat adequately refrigerated while preparing this dish.
This distinguished dish is the Italian version of Steak Tartare – thin slices of raw beef served with an oil and lemon-based sauce. However, there are many different types of meat that make an alternative to steak. If you plan to prepare this popular dish, take a moment to familiarize yourself with the different versions of this delicious dish and how to make them.
What is the Main Ingredient in Carpaccio?
Italian dishes are known for their simple recipes, which often include only three of four additional ingredients. Carpaccio is no different. The main ingredient is simply the type of meat used in the dish.
There are variations to this recipe that cater to vegans and vegetarians and include fruits and vegetables as the main ingredient. There is a delicious recipe for Watermelon Carpaccio made famous by the Culinary Institute of America.
The meat (or meat alternative) you choose will often determine the secondary ingredients that best compliment the dish you are making. Yet, there are a few ingredients you will need before you begin preparing any of these delicious carpaccio plates:
Lemon, thinly sliced
Lemon juice
Shallots or onions
Balsamic, Red Wine, or Rice Vinegar
Extra virgin olive oil
All recipes are on a 1:1 ratio. That means, for every pound of meat, you will need 1 lemon, 1 tbsp lemon juice, 1 shallot or small onion, and 1 tsp each of oil and vinegar. You will season to taste.
What is the Difference Between Beef, Tuna, Salmon, and Springbok Carpaccio?
The difference in the most common types of carpaccio served has less to do with the main ingredient and more to do with the meal you are pairing with this appetizer. These four well-known carpaccio recipes will include the best ways to prepare each dish and what meals to serve with it.
1. Beef Carpaccio
The best way to prepare beef carpaccio is to select the finest in sirloin or tenderloin cuts. Trim any fat from meat and position it onto plastic wrap. Season the meat. You may choose to use simple salt and pepper, or you can season with fresh herbs like cilantro, parsley, and tarragon.
Splash the meat with vinegar, and smear the mixture over the meat. Wrap in the plastic and chill for at least 8 hours. Some chefs will sear the meat for added flavor, but this step is uncommon. Once you have assured the meat is thoroughly chilled, slice thinly and arrange on a plate. Serve with capers, sliced onion, olive oil, and lemon juice. Garnish with lemon slices and parsley.
Pair beef carpaccio with:
Shrimp Scampi, with pasta
Gourmet Caesar Salad entrée
Salmon Risotto
2. Tuna Carpaccio
For tuna carpaccio, you will want to select sushi-grade tuna. Mix together lemon juice, olive oil, salt and pepper, chopped cilantro, and finely chopped onion. Place tuna in the marinade, cover, and chill for 5 to 7 hours. Some variations call for lime juice in place of lemon juice.
Slice tuna and serve with thinly sliced lemon (or lime), sliced tomato, and cotija crumbles. Garnish with jalapeno.
Pair tuna carpaccio with:
Filet Menon, with baked potato
Chicken, beef, or shrimp fajitas
Beef Wellington, with asparagus spears
3. Salmon Carpaccio
When making salmon carpaccio, begin by slicing red radish and mooki root julienne. Rinse thoroughly and set aside. Chill salmon for one hour, unseasoned. Slice thinly, with the blade at an angle for the best results. Toss the salad with sesame oil dressing, and place tuna on top of the salad. Garnish with Japanese citrus chili.
Pair salmon carpaccio with:
Stuffed Raviolis, in marinara
Pho, or other oriental soup
Sushi, sashimi, and nigiri
4. Springbok Carpaccio
If you are new to making carpaccio, you may ask, what is springbok carpaccio? Springbok is a medium-sized antelope whose meat is considered a delicacy around the world.
To make springbok carpaccio, season the meat with sea salt, crushed coriander, and black pepper seeds, and begin braaing the fillet until lightly brown on all sides. Make sure not to cook the fillet for too long, as you want the inside to remain raw.
Wrap the meat and chill for 10 hours. Once chilled, slice in wafer-thin pieces and assemble atop a bed of baby herbs and kale. Drizzle with a tataki and spicy mustard emulsion sauce. Garnish with edible flowers.
Pair springbok carpaccio with:
Corn Chowder, with cheddar and thyme cornbread
Honey Garlic Salmon, with parmesan green beans
Poached duck and cashew salad
The Best Reasons to Master Beef, Tuna, Salmon, and Springbok Carpaccio
Carpaccio is a dish that can be modified easily to adapt to any guest's palate. Once you have mastered this simple plate, you can explore new, complementary combinations. If you manage a restaurant or foodservice establishment, creating a signature carpaccio dish will set you apart from your competition. And keep your guests coming back for another taste.
You can offer an entire carpaccio menu, catering to all tastes and diets. When it comes to carpaccio, there really are endless possibilities. Now that you know the basics, you can create masterful carpaccio dishes no one has ever tasted before.