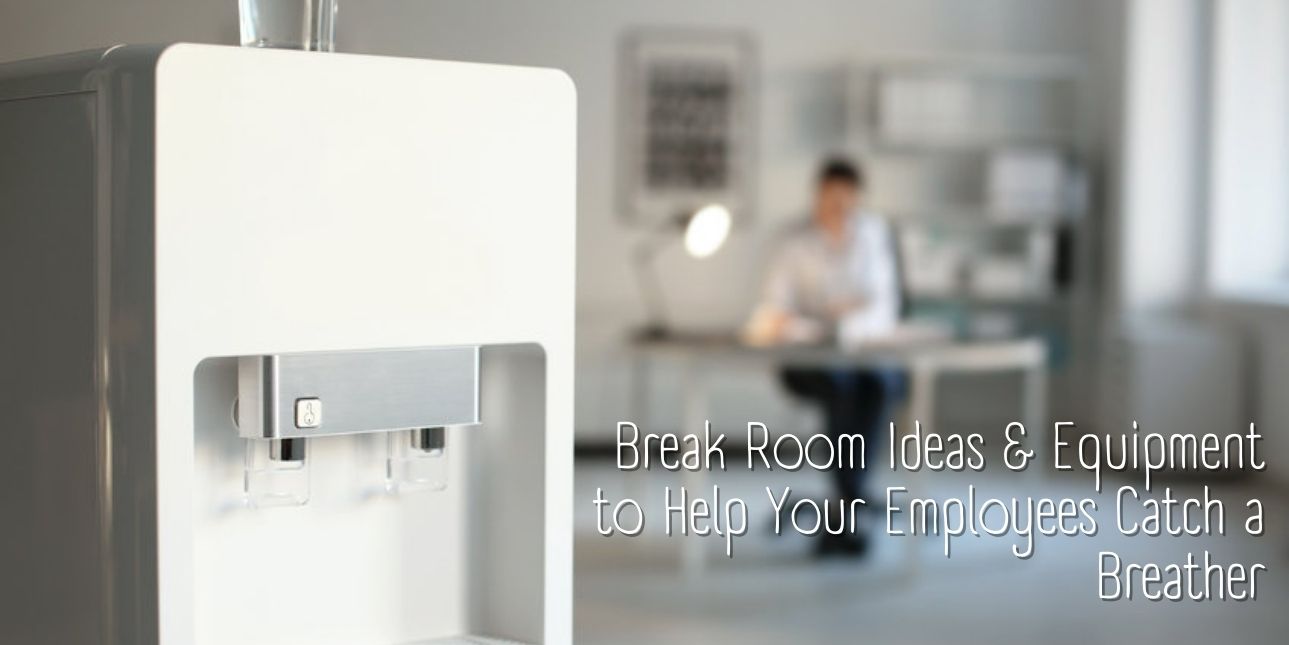 Break rooms are important parts of employee workspaces as they promote productivity by allowing workers to relax and escape their usual schedule for short periods. Having a comfortable and well-maintained break room will enhance employee experience and promote better work conditions. Break rooms should not be considered mere expenses on the company ledger as they are essential areas in an office that promote cohesion in the workforce and also help in the improvement of employee attitudes towards their jobs.
Outfitting an office break room with quality break room equipment, furniture, and decor helps you create a soothing and relaxing atmosphere. If you've been thinking about switching up a few things in your establishment's break room, this article is for you. We discuss a variety of corporate break room ideas to make your break room more comfortable, essential equipment to help you in the process, and a few tips to make your break room more employee-friendly.
What is a Break Room?
So, what is a break room? Break rooms were originally conceptualized as spaces where employees can relax and take short breaks to rest their minds, allowing them a breather from their busy schedule. It's not merely a space to relax, but also a place where you can find refreshments and snacks. Staff break rooms can promote a sense of community between your employees, helping them socialize. Employees can also use break rooms to collaborate and communicate with fellow colleagues on work-related issues and tasks, promoting cooperation and interoperability in your workforce. Having a space dedicated to helping employees sit back and relax can cut through the hyper-focused work environment, and can prevent burn-outs. All business owners should invest in some cool break room ideas that can enhance employee satisfaction and reduce work stress.
The Features of a Good Break Room
If you're planning on a break room makeover, you might want to consider the following features before you go about recreating your break room's aesthetic:
Equip the office break room with high-quality equipment.

Ensure the space is well-lit and embellished with pleasant decor to make the break room more welcoming and warm.

Make sure you equip the break room with food stalls and beverage stations to allow your employees to grab a bite or a beverage.

Instruct your break room organizers to dedicate areas for employees to mingle, collaborate and socialize.

Help your employees enjoy their time in the break room by outfitting a television, music system, and other forms of entertainment in the break room.
Essential Break Room Equipment
Here's a list of equipment that is integral to building a comfortable staff break room:
Beverage stations are akin to refueling areas for your employees, where they can rejuvenate by getting their daily caffeine fix when they feel dull or worn out. A quality cup of coffee or tea can go a long way in improving your employees' energy levels. Providing beverages throughout the day should be a top priority for refreshment stations in the office break room. Coffee machines, brewers, dispensers, and hot & cold beverage dispensers are all components of a well-stocked beverage station. Accessories such as cup dispensers will enhance the amenities in your break room coffee stations and improve overall employee comfort.
Water is the most basic requirement for everyone. Access to clean and potable water is a bare essential for an establishment looking to implement efficient corporate break room ideas. You must outfit not only your break room but also other spaces in your office with quality water dispensers to make sure your workers remain hydrated throughout the day. Along with water, ice can be a refreshing additive to both water and other beverages served in your break room. A glass of cold water or juice can go a long way in helping your workers relax on a busy workday. Equip your break room with quality commercial ice machines and dispensers to boost productivity and employee satisfaction.
Commercial refrigeration encompasses some of the most essential needs of a break room. High-quality and powerful reach-in refrigerators can make a perfect fridge for your office break room as they're capable of handling constant, heavy-duty usage. Employees use break room refrigerators to store their lunch, while establishments use them to store refreshments for their workers. Needless to say, with the door being opened several times over the day and for long durations, you require a reliable refrigeration unit to keep your employees satisfied. You can also explore undercounter refrigeration options in case you have limited space in your break room and are attempting to implement efficient break room ideas for small spaces.
Cooking & Warming Equipment
While it might be both difficult and impractical to set up a full-blown kitchen in the office break room, it is still important to offer your employees options to cook and warm up snacks. Equipment such as microwave ovens and toasters are easily operable and practical solutions to help your employees prepare sandwiches or warm up their lunches. Microwaves can heat frozen food options like pizzas, fries, and even full-blown meals in under a minute. Don't miss out on these essentials when you're carrying out a break room makeover and are organizing the cooking & warming section.
Snacks Stations & Merchandisers
Snack stations are perfect additions to break rooms in corporate offices as they allow workers to eat healthy snacks while they're on their breaks. You can outfit your break room with both heated and refrigerated display cases to store sandwiches, salads, muffins, and other snack options. Your snack station can also feature air curtain merchandisers to include packaged snacks and other offerings for employees. Beverage merchandisers can complement your existing beverage station by offering several pre-packaged juices, sodas, and refreshments. Condiment stations carrying sliced & diced vegetables or fruit can be placed along with the other pieces of equipment to promote healthy options among your workforce.
Cleaning & Sanitation Equipment
Cleaning and sanitation equipment are used not only to maintain a clean environment at the office and in the break room but also to ensure the food and other material stored in the break room remains safe to consume. Cross-contamination can lead to serious illnesses such as food poisoning and risk your employees' health. Soap & sanitizer dispensers, paper towel dispensers, and trash cans are some of the most important components of corporate break room ideas. Also, make sure the janitorial staff clears out the trash can and cleans the break room regularly.
Tips to Make Your Establishment's Break Room Comfortable
Here are some simple tips to make your office break room more comfortable and welcoming to employees:
Use high-quality furniture and attractive seating arrangements to improve the level of comfort in your break room.

Deploy easily controllable and technically-sound thermostats for seamless control of temperature in the break room.

Lighting can make a great difference in how people perceive a given room. Use soft lighting to make the break room appear more inviting to your workforce.

Along with the above tips, make sure you also use decorative elements to make things more interesting in the break room and make it a more happening place.
By using these decor and equipment ideas, you can now turn your break room into a full-blown recreational space for your employees to recharge their batteries. Employers should not put off-break room renovations as these spaces are bound to promote productivity and cohesion among the staff. Break rooms are not mere places for having snacks and refreshments but are important spaces that help promote a sense of work culture and employee satisfaction.