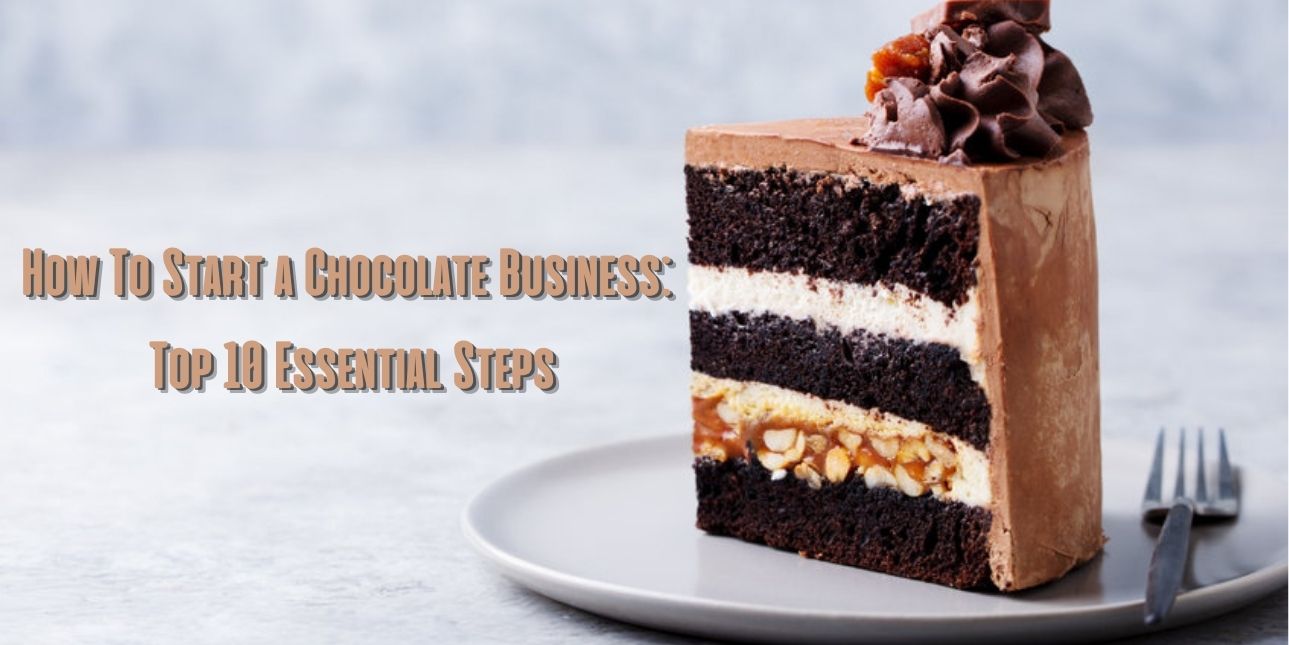 Chocolate is a popular delicacy and dessert across the world. Most people love chocolates, and creating the blend of perfect chocolate or mastering the candy-making business takes time. For first-time business owners, it is essential to understand the intricacies of the business and the product. Initially, you will need to be involved in the packaging, marketing, selling, and production process to understand the business from an end-to-end perspective.
In this blog, we discuss how to start a chocolate business, chocolate business profits, chocolate pricing, naming your chocolate business, how to open a chocolate shop or the steps to open a candy shop, and the best chocolate ideas.
How To Start a Chocolate Business
Chocolate Business Plan:

At first you will need a clear and concise plan for your chocolate business. Your chocolate business plan should include the cost of setting up, the target market, menu, pricing, and the perfect name for your chocolate business.




Chocolate Business Opportunities

: You can start your niche chocolate shop or be a candy franchise owner. Franchisees are ideal for business owners who don't have enough time to get involved or are not interested in being involved in the manufacturing and packaging process. You don't need food business knowledge to become a franchise owner. Candy or chocolate franchisees offer products mostly manufactured in a factory far from the store.
Chocolate Business Profit
If you are curious to know how much profit a store owner makes on a bar of chocolate, then you are at the right place. We have done extensive research on chocolate business margins. Boutique chocolate shops can have profit margins in the range of 50 to 70%. Large manufacturers of chocolates have a lower profit margin of 8 to 10%. The gross profit and profit after taxes can depend upon your total revenue or sales volume. Most candy kitchens or boutique chocolate shop owners can reach $1,000,000 in annual revenue from chocolate sales.
Starting a chocolate business can be cost-intensive but can generate huge profit margins after a while. You can generate more revenue by constant innovation. Every quarter, you can revise your chocolate menu depending upon sales and customer feedback.
Chocolate Pricing
Getting the price right is essential for business sustainability and profits. You can charge your customers $7 to $10 for a pound of regular chocolate. For artisanal chocolates, you can set your prices in the range of $30 to $50. For special packaging or gift packaging, you can charge anywhere between $5 to $20 depending upon your business model and scale of business.
Name Your Chocolate Business
Selecting names for a chocolate business can become a tedious endeavor. But it is an important task that can help you scale your business. Before choosing the right name for your chocolate business, you can brainstorm with friends or family. Additionally, you can use a naming guide or an online business name generator for the perfect name for your business.
You can also register a business name by researching; you can go through your state's business registration records, state and federal trademark records, online platforms, and online domain depository. Currently, it is highly recommended that you buy your domain name for the long term and future-proof your online footprint.
How To Open A Chocolate Shop: Standard Norms
Create a Legal Entity: Once you find the perfect name for your chocolate business, you will need to register it before starting your business operations. You can opt for a sole proprietorship, limited liability company (LLC), or partnership.
If you create an LLC for your chocolate business, it protects you from personal liability cases. You can create an LLC by paying the minimal state LLC costs or hire an LLC service provider to establish a legal entity.
Register For Taxes: If you wish to start a chocolate business, you must register your business for taxes. You will need a working knowledge of various federal and state taxes levied on businesses. Additionally, you will need to apply for an EIN.
Permits and Licenses: Chocolate businesses need a host of permissions and licenses for smooth operations. You will need to adhere to state and federal permits for your business. Chocolate businesses are considered food establishments, making them vulnerable to sudden healthy and safety checks.

Business Insurance: Businesses need insurance to operate safely and securely. High-quality and efficient business insurance secures your business from various risks. You can obtain general liability insurance for general coverage for equipment, entity, and other business-related risks.
Best Chocolate Ideas For Businesses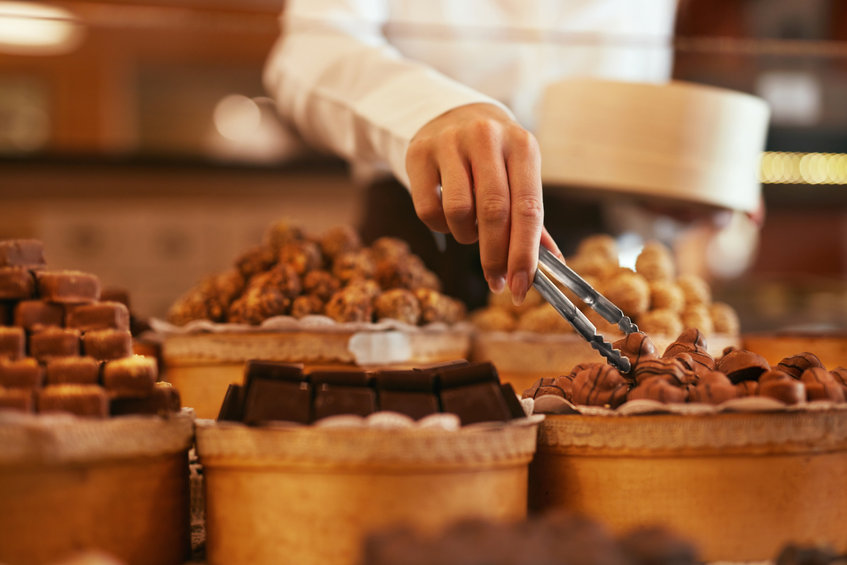 You will need a variety of chocolate recipes or chocolate ideas to start your own chocolate business. Here are some popular chocolate ideas that you can serve in your chocolate shop:
Ice-cream Pomegranate Chocolates:

Ice-cream pomegranate chocolates are popular with children and adults. You can serve ice-cream pomegranate chocolates in various ways; some serve the pomegranate seeds on top of chocolate ice cream, others create a blend of chocolate ice cream and pomegranate seeds. To serve ice cream pomegranate chocolate in your chocolate shop, you need a high-quality

refrigerated display case

or display freezer.

Chocolate Coconut Balls:

You can use coconut flakes, sweet chocolate, and condensed milk to create tropical chocolate truffle balls. Additionally, you can use vanilla extract to make the dessert sweeter.

Chocolate Cookies and Cream:

Many prefer chocolate cookies with cream. You can serve flavored chocolate bars and ice cream with chocolate chips.

Chocolate Toffee With Nuts:

Chocolate toffees are popular with all age groups. You can serve chocolate toffee with nuts, chocolate chips, hazelnut bits, and other flavorful ingredients.

Chocolate-Covered Cherries:

You can also serve custom chocolate-covered cherries in your boutique chocolate shop. Some add chocolate chips, cream, and nuts to chocolate-covered cherries. Even though this is a simple dish to prepare, many get it wrong. So, the best way to create perfect chocolate-covered cherries is to have a chocolate tasting session and ask for customer feedback.

Chocolate Bars:

Flavored chocolate bars are popular across the world. Many prefer chocolate bars over any other type of chocolate dish. You can serve high-quality chocolate bars in your artisanal chocolate shop for sustainable sales. Create custom or unique chocolate bar recipes for your patrons. You can generate huge margins from repeat and regular sales of chocolate bars.

Samoa Truffles:

You can sell chocolate treats in your establishment. Chocolate treat recipes are ideal for all occasions. You can create uniquely flavored chocolate caramel Samoa desserts for your patrons.

Colorful Galaxy:

Colorful galaxy barks are highly popular among children and millennials. You can create colorful start-filled recipes or chocolate designs to entice the younger generation.

Dark Chocolate and Dry Fruits:

The perfect healthy combination of chocolate is made from high-quality dark chocolate and dry fruits. You can use almonds, nuts, and other dry fruits in this recipe. It is a healthy and tasty chocolate recipe for both children and adults.
You can also create unique blends and recipes by mixing different ingredients. You can mix oranges and cherries, chocolate and alcohol, or create other unique chocolate recipes for your patrons.
Starting your chocolate shop or business can be a profitable idea. But before starting, you need to come with a sustainable business plan. Additionally, you will need high-quality candy-making supplies to create complex or straightforward chocolate recipes. You will also need a name, permits, chocolate-related knowledge, and chocolate ideas to start your own chocolate shop or business.