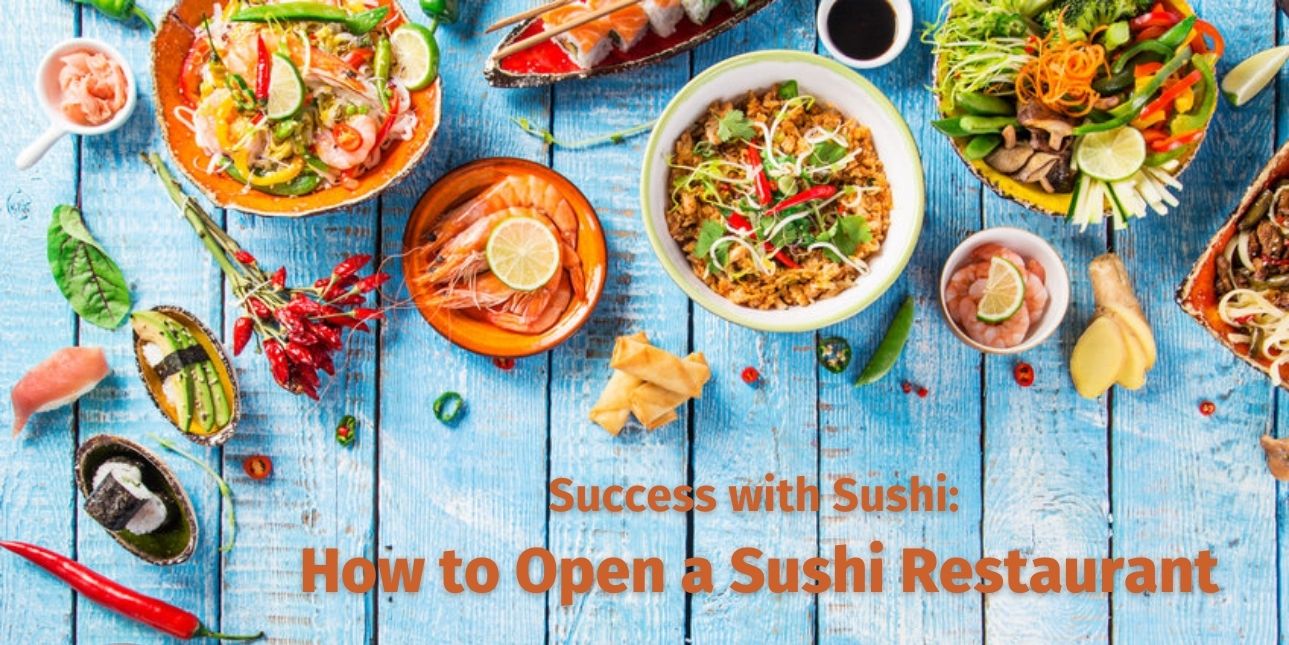 Sushi, Japanese for 'Sour Rice', evokes opinions as strong as the flavor in its name. Famous for its characteristic umami taste, its association with savory, raw seafood, and its deep roots in Japanese culture, Sushi finds a place in the hearts and palettes of food buffs worldwide. Not only has Sushi been a mainstay in the public consciousness for many decades already, but the Sushi industry is also slated to grow by the billions over the coming years! Barring the slowdown from a raging global pandemic, the lucrative Sushi restaurant business earns a suave $22 billion in annual revenue, wasabi sauce and all. But for those embarking on a business adventure into the magical land of sour rice delicacies, competition is fierce and success is frequently predisposed to chance and volatile public opinion. However, your insurance in the Sushi business is still the ubiquitous insurance against all risks in the foodservice industry: high-quality food! Whether your goal is a small-sized sushi bar or a larger establishment, a perfect business plan, respect for the endemic culture, and talented staff, are all integral to your success. In this article, we discuss a step-by-step guide to opening and maintaining a successful sushi restaurant.
Step 1: Do Your Research
As always, a solid grip on the theory of your idea will be instrumental in its practical success. Opening a sushi restaurant should be preceded by significant research and analysis conducted by professionals well-acquainted with the local market and demand. This research might include a feasibility report, a cost analysis, understanding the legal aspects of setting up a Sushi business, and more. We discuss these aspects in more detail below:
A Feasibility Report: The eponymous function of this report is to outline the feasibility of a sushi business in your selected area. This report factors in the costs of renting/owning/constructing your restaurant space, the local demographics and their food palettes, your potential competitors, the most suitable locations, and so on. A feasibility report will form the basis of your business model and a series of other decisions that deserve a foundation of thorough research.
Cost Analysis: To open a sushi restaurant, you will need to do a thorough cost analysis that will form the basis of your business plan. Make sure to have an estimate for the costs of rent, utilities, raw material, equipment, staff salaries, furniture, and maintenance costs, differentiating recurring overhead from one-time expenses. A cost analysis will provide the numbers for the framework of your revenue model, and help you estimate the amount of capital required to form your business.
Business Licenses and an EIN: Opening a sushi restaurant will require a general business license and an EIN, or Employment Identification Number. Registering with the IRS will procure your EIN, while a business license (and other required licenses, depending on the nuances of your establishment) can be purchased at City Hall. Several regulations govern how you operate your sushi restaurant. To function optimally, you will also need a certificate of occupancy (CO), licenses from your local health department, and a general business liability insurance is usually recommended. For further resources, make sure to refer to the end of this article.
If you plan on recruiting five or more staff members for your sushi restaurant, you will also need workers' compensation insurance to financially protect your employees from unforeseen injuries or accidents at your restaurant.
Step 2: Find Your Capital
Before you lay out the plan on how to open a sushi restaurant, you will need to source your capital to set it up successfully. Analyzing costs under Step 1 should help give you an estimate of the capital required to materialize your sushi restaurant. If you do not have sufficient resources to build your restaurant, look into the following options to finance your business:
Smart-money funding
Secure a loan from SBA, banks, friends, or family members
Crowdfunding
Equipment Financing
Merchant Cash Advances
Purchase Order Financing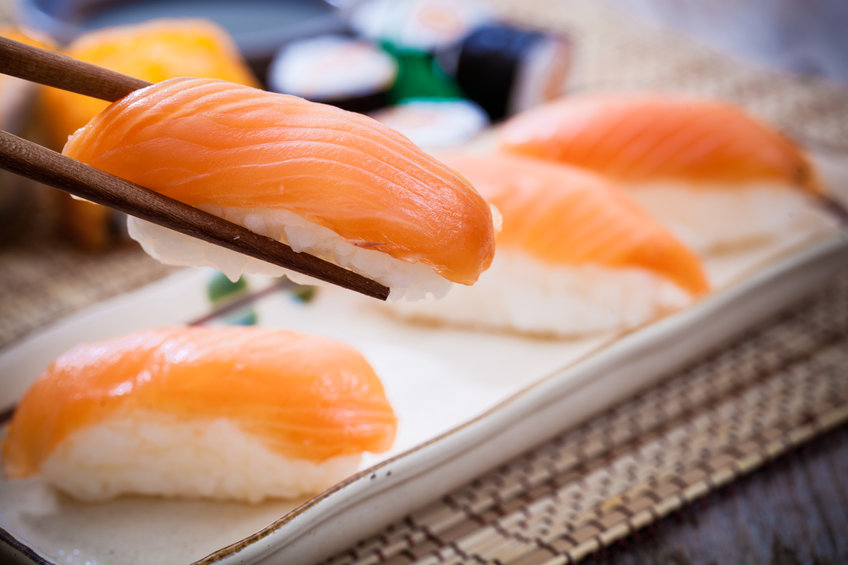 Step 3: Lay Out the Plan
This step includes creating a business plan, and it should help you zero in on a name for your business, select the most suitable equipment, decide on the interior design of your restaurant, the executive hierarchy, your suppliers, and the restaurant's location. A well-thought-out business plan is paramount for approaching investors, so make sure to bolster your plan with evidence-based numbers, references, and reliable frameworks set in the real world.
Step 4: Implementation!
Now that you've figured out your capital and business plan, it's time to set up your restaurant.
Renting/ Purchasing the Right Location: When it comes to food service, it's all about location! The right location can dramatically increase the success of your business. Keep in mind that sushi, once limited to only urban areas with a thriving nightlife, is now available in suburban areas and supermarkets. While urban centers are still the most fertile areas for a sushi restaurant, consider areas with casual eateries that do not serve Asian cuisine. This will help differentiate your restaurant while still providing a habitable space for its success.
While deciding the dimensions of your location, make sure to learn the difference between what is a sushi bar and a sushi restaurant. While sushi bars are smaller counter or multiple-counter-sized locations with dedicated chefs that prepare sushi for patrons, a sushi restaurant is a larger dedicated space that serves day-round sushi, full meals, and additional items of your choice.
Digest Your Menu before Selecting Your Chef: Make sure to understand the cuisine, the culture, and the process behind making sushi. This will be impactful in deciding the atmosphere, interior, and most importantly, your Sushi chef. As a highly specialized profession that requires years of practice to perfect, Sushi chefs should fully understand the dish and its many varieties. Originating as the narezushi in the Neolithic cultures of China, sushi today can be found in several styles, including Makizushi, Uramaki, Nigiri-zushi, and Sashimi. While an exclusive Sushi menu is certainly a great idea, consider including additional Japanese cuisine items in your menu to attract larger patronage, including Hibachi, noodles, and stir-fry dishes.
Buy the Right Equipment for Your Sushi Restaurant: In the evolving world of commercial kitchen technology, equipment devised specifically for your sushi restaurant is easy to find. Consider purchasing the following sushi bar equipment to create a fast, automated, and affordable sushi-making kitchen:
Refrigerated Sushi Cases
Commercial Refrigerators
Commercial Deep Fryers
Work Ranges
Commercial Grills
Broilers
Commercial Rice Cookers
Purchasing the Right Tools and Supplies: Consider purchasing the following specialized tools and supplies for your sushi restaurant:
Cutting Boards
Traditional Japanese knives
Sushi Rollers
Sushi plates and boxes
Suitable dinnerware
Sushi Boats and Displays
Chopsticks
Ensuring Food Safety: Since food safety is paramount in the sushi-making business, make sure to thoroughly evaluate your food suppliers and distributors for their adherence to the food safety regulations outlined by the FDA for raw fish. This includes freezing temperatures and other measures to minimize pathogens. Build a relationship with your supplier to continue to receive high-quality fish as your restaurant begins to flourish.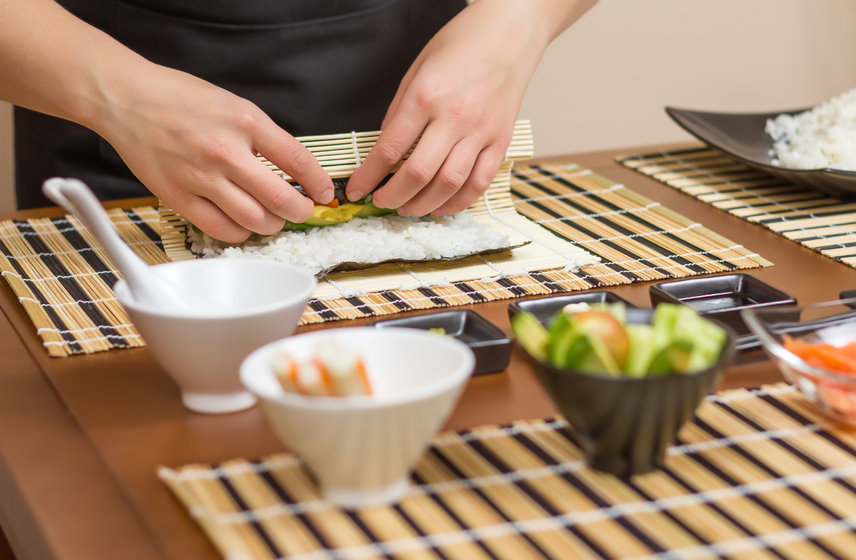 Step 5: Marketing
Now that your restaurant is ready for its launch, develop a marketing strategy to advertise its features to potential patrons. Here are a few factors to keep in mind while creating your marketing strategy:
The target demographic and their palettes
The price range of your menu: is it a high-end sushi place or an affordable sushi bar?
Consider the platforms for advertising your restaurant; social media, billboards, e-mails, running promotions, pamphlets, newspapers, and word-of-mouth advertising.
Consider recruiting a professional digital marketer to exponentiate the success of your campaign.
The average restaurant in the US makes $82,000 in annual profits. With the right product differentiation, innovative marketing, interior design, and excellent taste, making your sushi restaurant soar past this value should be a walk in the park. We wish you the best of luck!