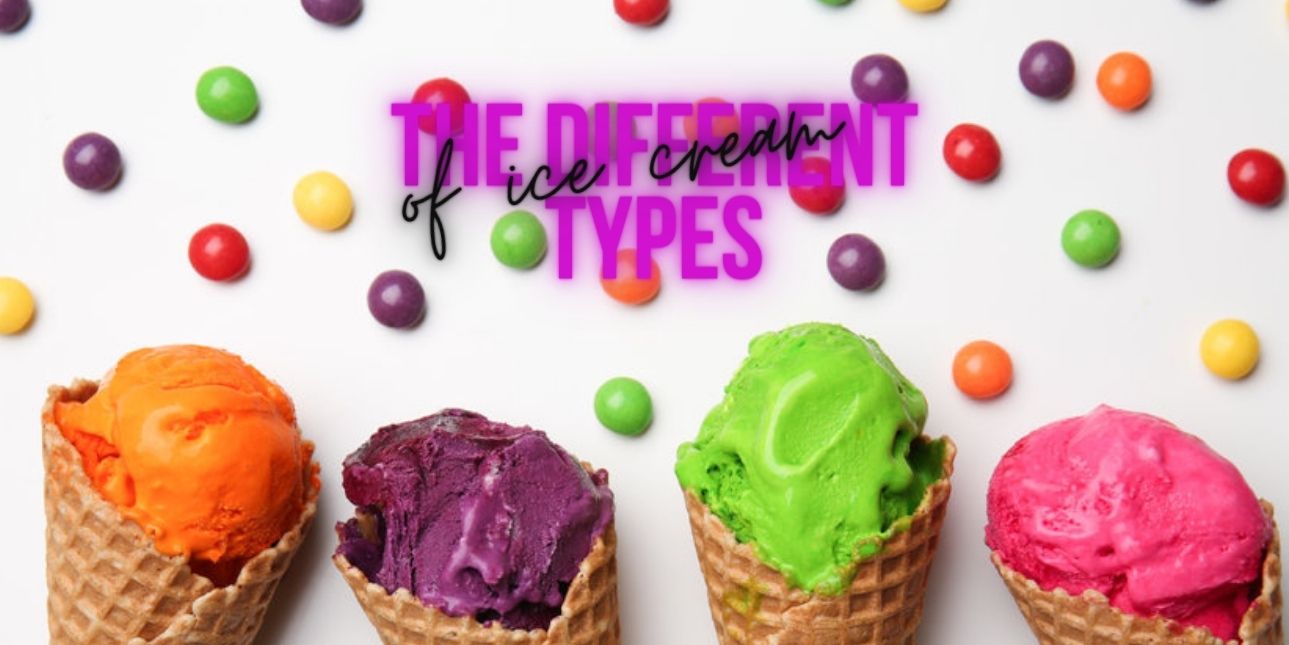 Ice cream and frozen desserts are popular across all age groups. Everyone has their favorite flavor and type of ice cream. Ice cream and frozen dessert consumption increases during the summer months. Globally, there are numerous ice cream flavors and styles of ice cream.
In this article, we discuss what ice cream is, the most popular types of ice cream, and different types of ice cream flavors.
What Is Ice Cream?
Ice cream is a frozen dairy product that is popular worldwide. Ice cream is essentially a dessert or snack. Ice cream is made with milk, sugar, and flavored ingredients. Some ice cream and frozen desserts contain eggs. The rise in the popularity of ice cream is related to the widespread use of freezers and refrigeration solutions in the 20th century. Ice cream needs to be stored at sub-zero temperatures. High-quality commercial ice cream freezers are designed to store ice cream at ideal temperatures for long periods.
The Most Popular Types of Ice Cream
Ice cream comes in various forms, textures, and flavors. You can try ice cream sandwiches, sorbet, sherbet, ice cream cones, and much more. Here is a list of all types of ice cream that are popular across the world:
Gelato:

Gelato is a popular ice cream made from whole milk. Gelato has lower fat content than traditional American ice cream. Vanilla, strawberry, blueberry, and pistachios are the most popular gelato flavors. To create the thick and dense texture of gelato, all the ingredients are churned and blended at low speeds. Additionally, gelato is made without eggs and stabilizers.

Glass top display freezers

are perfect for serving gelatos in ice cream parlors and stands as customers can choose their flavor of choice effortlessly.

Sherbet:

Sherbet is one of the most delicious ice cream types you can serve your patrons. The fruit-based dessert contains dairy with less than 3% milkfat. Sherbet is mainly made with cream, milk, juice, egg whites, and gelatin. Sherbet has a smooth texture but is less creamy than regular ice cream. Orange, lemon, lime, and pineapple are the most popular flavors.

Falooda:

Falooda is an Indian frozen dessert that originated in ancient Persia. Falooda is made with sweet basil seeds, rose syrup, vermicelli, milk, and sugar. The dessert is rich with nutrients and is healthy for the body. Falooda is the perfect cold dessert for hot summers.

Rolled Ice Cream:

Rolled ice cream originated in Thailand. The dessert is also known as stir-fried ice cream. The sweet frozen dessert is made with cream, milk, sugar, and other ingredients. All the ingredients are simultaneously stirred, blended in air, and cooled. The process creates visually appealing rolls of smooth ice cream. Rolled ice cream is served vertically with additional toppings. You can serve rolled ice cream with delicious toppings like strawberries, chocolate chips, and Oreos.

Baobing:

Baobing is the perfect shaved ice dessert that you can serve to your patrons. Baobing is popular in Taiwan and China. The dessert contains a large pile of ice-shaved toppings. You can use various dressings for Baobing, depending on the flavor you desire. Baobing is primarily made from mung beans, condensed milk, sugar water, and various ingredients. Mango and strawberry are the two most popular flavors.

Kulfi:

Kulfi is a traditional Indian ice cream, a dense, milk-based dessert frozen in a cone-shaped mold. Kulfi is made by slow heating milk with dry fruits, spices, sugar, and saffron. You can also use condensed milk to create the thick kulfi base quickly. Pistachio, rose water, and mango are popular kulfi flavors.

Popsicle:

The ice popsicle is also called an ice pop or freezer pop. Ice popsicle is a frozen dessert served on a stick. You can make water-based and milk-based popsicles. Ice popsicles are made by freezing milk or flavored water at rest. Ice popsicle comes in various flavors like pineapple, strawberry, orange, grapes, and apple.

Dondurma:

Dondurma is a Turkish delicacy. Dondurma is made from sugar, mastic, salep, whipped cream, and orchid from Turkey. Making dondurma involves blending and churning all ingredients continuously to obtain a flexible dessert. Stretched dondurmas come in various flavors. You can try pistachio dondurma and other various fruity dondurmas popular among kids and adults.

Jipangi

: Jipangi is also called a J-cone. The name best reflects the design of the J-cone. Jipangi is cane-shaped puffed corn ice cream. A favorite among Koreans, Jipangi is a contemporary dessert that has become part of pop culture. In a Jipangi, ice cream peeks out from both cone ends.

Soft Serve:

Soft serve is also known as soft ice. Soft serve is made with ice, milk, sugar, and without eggs. Soft serve is made by churning ice cream with excess air. They contain more air than other ice cream types. Soft serves have a light and swirly texture. Soft serve is available in malls, dessert places, fast food joints, supermarkets, events, and carnivals. Vanilla is the most popular soft serve flavor. Chocolate and strawberry are also popular among kids. Soft serve is mostly served without any solid toppings like nuts and fruits.

Sorbet

: Sorbet and sherbet are similar types of frozen desserts, but the primary difference is that sorbet doesn't contain dairy. Sorbet is made from fruit juice, sweetened water, wine, and honey blended together. You can scoop sorbet and serve cones for lactose-intolerant people. Many vegans also prefer sorbet over other ice creams. You can serve sorbets from high-quality

dipping cabinets

for an effortless customer service experience.

Frozen Yogurt

: Frozen yogurt is a popular dessert healthier than other similar offerings. As the name suggests, frozen yogurt is made with yogurt and other dairy products. Frozen yogurt is a light dessert that tastes great and helps indigestion. You can serve vanilla, strawberry, triple berry, chocolate, mango, apple, and banana-flavored yogurts.

Mochi:

Mochi is a round dessert mainly made from pounded rice and ice cream. Mochi is a delicious dessert as the pounded rice dumpling adds texture, and ice cream filling adds flavor. Mochi is available in vanilla, chocolate, strawberry, choco chip, oreo, and coffee flavors.

Philadelphia Ice Cream:

Philadelphia ice cream is an iconic American ice cream. The ice cream is made without eggs, making it lighter than custard and other frozen desserts. Philadelphia ice cream is blended and churned with air and is fluffier than other frozen desserts. You can try vanilla, blueberry, and chocolate-flavored Philadelphia ice cream.
Different Types of Ice Cream Flavors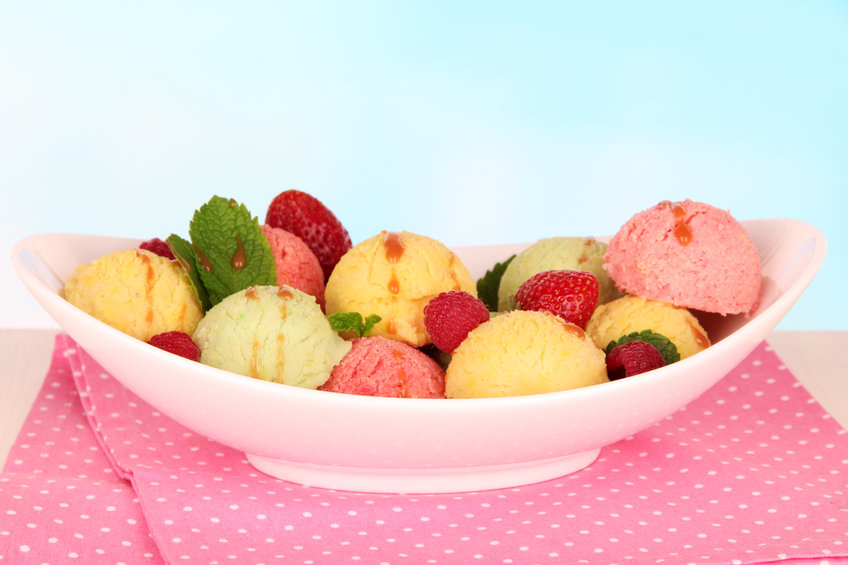 There are hundreds of ice cream flavors that are popular worldwide. Here is a list of the most loved flavors:
Vanilla

Chocolate

Chocolate Chip

Butter Pecan

Eggnog

Eskimo

Strawberry

Blueberry

Horchata

Pistachio

Lemon

Cookies

Mint Chocolate Chip

Mousse

Neapolitan

Cotton Candy

Butterscotch

German Chocolate Cake

Green Tea or Matcha

Teaberry

Ube

Pineapple

Peanut Butter Cup

Tutti-fruity

Marshmallow And Nuts

Peanut Butter And Jelly

Mango

Salted Caramel

Dry Fruit

Chocolate Brownie
Ice cream is the perfect refreshing dessert for summers. Many prefer to have ice cream and other frozen desserts during winter. The love for different types of ice cream is universal. You can choose from a wide array of frozen desserts with different textures and tastes. You can try traditional flavors like vanilla, strawberry, and chocolate or go for a unique flavor like mint chocolate chip.