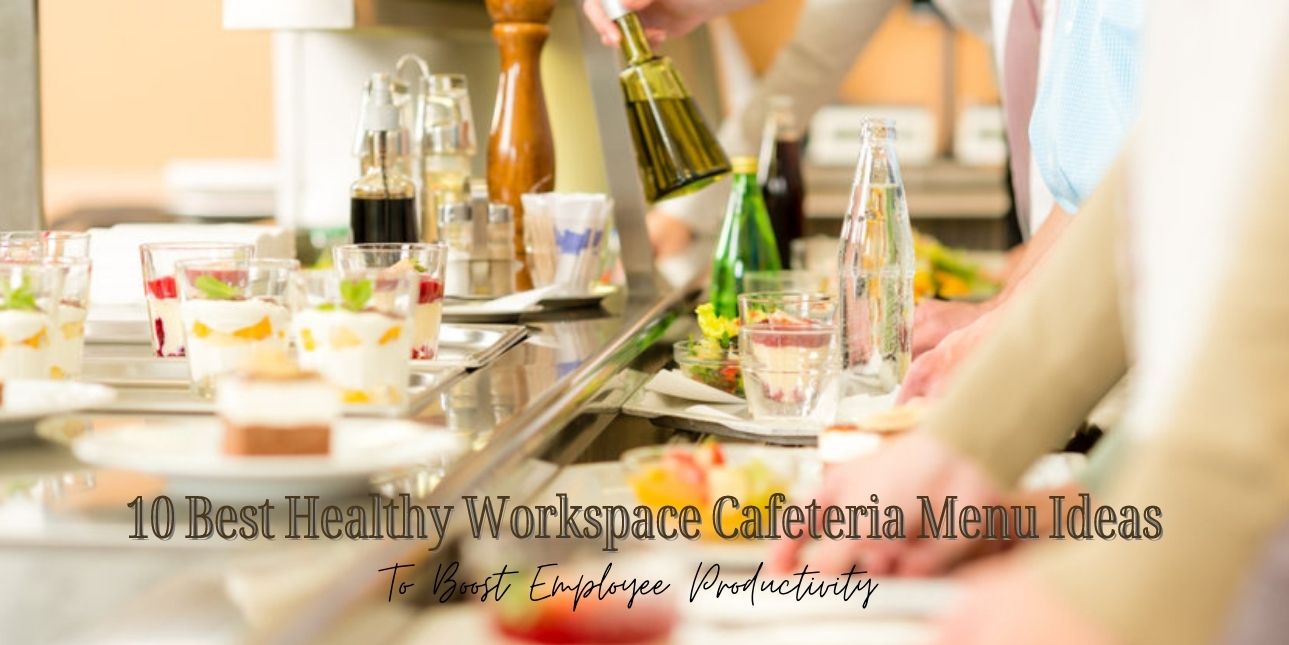 The success of an organization depends on employee productivity and happiness. Great food is one of the primary factors that can help retain talent in an organization. It acts as a social glue that helps employees socialize and collaborate. Food can also encourage diversity and openness along with inclusivity. Most multinational corporations offer free food to keep their employees happy and content. You can serve indulgent foods like bagels, chips, and cookies to help them beat work fatigue.
Some employees may prefer healthy dishes over other indulgent dishes. Good nutritious food can increase productivity and performance. Foods like nuts, grains, vegetables, and seafood can keep your workforce sharp and productive over a prolonged period. Good nutritious food along with light conversations during mealtime can motivate employees. They will feel energetic and focused throughout the day. In this article, we discuss the best cafeteria menu ideas that are perfect for employees, a list of essential equipment required for your corporate cafeterias, and how to manage a corporate cafeteria.
Best Cafeteria Menu Ideas
The perfect cafeteria menu ideas can include easy-to-prepare dishes and dishes that can be served quickly. Onsite corporate cafeterias in large organizations offer various types of dishes. Most workplace cafeterias offer delicious appetizers, entrees, side dishes, and desserts. Here is a list of corporate cafeteria menu ideas that are ideal for any organization:
1. Breakfast: Serving fresh and healthy breakfast in your company cafeteria will boost employee morale. After a healthy breakfast, your employees will be motivatedthroughout the day. Most multinational corporations and companies offer free or subsidized breakfast menu items for their employees. This particular strategy is an excellent fit for corporations.
Regular Breakfast Ideas: Breakfast at corporate cafeterias usually include tacos, waffles, burgers, hot dogs, and other morning dishes.
Healthy Breakfast Ideas: You can serve a multitudes of healthy breakfast dishes like fruit bowls, oatmeals, omelets, vegetable salads, and other nutritious cereals.
2. Healthy Salads: Consuming junk food or oil-rich food can reduce an employee's productivity and also create long-lasting health complications. Salads are the perfect healthy cafeteria food that can be served throughout the day. Salads are an ideal alternative to junk food; they can also be served as side dishes or entrees. Healthy salads should be part of every workplace cafeteria. You can entice your employees with delicious salads like Caesar, Greek, and Russian salads.
3. Comfort Food: Employees can get stressed during work hours. Some employees relieve stress by eating food that they love. Comfort foods like meatloaf, pancakes, waffles, soups, noodles, pasta, pies, and other dishes can soothe their nerves. Comfort food can boost their energy levels and keep them motivated.
4. Ethnic Cuisines: Ethnic cuisines should be a part of corporate cafeteria menu ideas. They can help reflect a company's diversity and openness. You can serve East Asian, Middle-Eastern, Continental, and African dishes in your corporate cafeteria. If you wish to keep your employees interested and happy, you can change the cuisines daily or weekly.
5. Seafood Dishes: Seafood has all the essential nutrients and appeals to most employees' taste palette of most employees. Seafood is ideal for health-conscious employees. Most seafood dishes have high Omega-3 content, which is great for the brain and the eyes. Consuming seafood dishes will keep your employees sharp and healthy.
Here are a few recommendations for seafood for your company cafeteria:
Different Types of Salmon
Yellowfin and Skipjack Tuna
Trouts
Shrimp and Crab
Oysters
6. Customized Meals: Customized meals should be a part of employee lunch ideas. During lunch, employees can customize their meals and indulge in foods that will motivate them for the rest of the day. Entice their taste palettes with various types of dishes and ingredients. They can build salads and make other delicious dishes depending upon their choice.
7. Wraps: They are perfect for breakfast, lunch, or snack time. They are the ideal alternative to burgers and sandwiches. With customized wraps, employees can choose the type of vegetables, sauces, and meat types depending upon their taste. Tortilla wraps are one of the most popular wraps that employees prefer. Wraps are highly nutritious, and your employees can get freshly made wraps from wrap stations. Wraps are ideal for employees in a hurry, as these can be made and delivered in no time. Here are some nutritional wraps that should be a core part of employee cafeteria menu ideas:
Lettuce Wraps with Romaine
Spicy Fish Wraps
Caesar Wraps with Chicken
Tortilla Wraps with Spinach
Pita Wraps
8. Slow-Cooked Dishes: Cafeteria food can include slow-cooked dishes that employees prefer during lunchtime. Slow-cooked meat is delicious, and the deep flavors of slow-cooked meats can entice your employees. Slow-cooked side dishes and smoked meats are perfect for corporate events and other executive gatherings.
9. Vegan Dishes: Companies can have diverse employees, some who prefer meat dishes and some who love vegan dishes. You can serve delicious barbecued vegan dishes at your company cafeteria. Vegan cuisine is also a healthy choice for employees who are on a vegan diet. Many prefer vegetable entrees and side dishes over meat dishes. And you can designate a section in your cafeteria for vegan dishes or vegan cuisine. You can also make daily vegan specials to keep your employees interested. Additionally, you can promote a sustainable vegan lifestyle by sourcing produce from environmentally conscious suppliers or vendors.
10. Snacks: Employee cafeteria menu ideas can include all-day snacks. With healthy and regular snacks, your employees will not feel famished or go hungry. You can create an atmosphere where your employees can snack alone or with their colleagues. Also, they can take a break, have casual conversations, and de-stress when needed. You can serve freshly made snacks that can be a healthy alternative to food dispensed from vending machines. Encourage your employees to opt for healthy snacks and desserts to keep themselves healthy and fit. You can also create some special snacks that are perfect for health-conscious employees.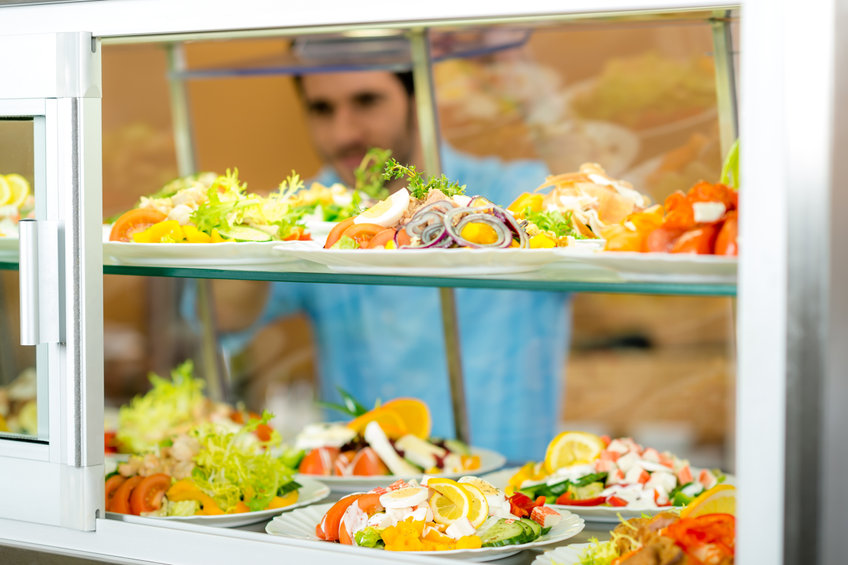 Here is a list of regular and healthy snacks that can be a part of corporate cafeteria menu ideas:
Bagels, Donuts, and Croissants
Baked Clams
Chips and Guacamole
Cheese Balls & Chicken Wings
Pretzels, Popcorn, and Baked Mozzarella Bites
Exotic Fruit Bowls
Fresh Fruit and Vegetable Salads
Flavored Yogurts
List of Equipment Needed For Company Cafeteria
Commercial kitchen equipment plays a vital role in the proper functioning of a company cafeteria. Workplace cafeterias need various types of equipment and utensils for a hassle-free cooking and serving experience. Choosing the right equipment for your corporate cafeteria will help you serve your workforce quickly and efficiently.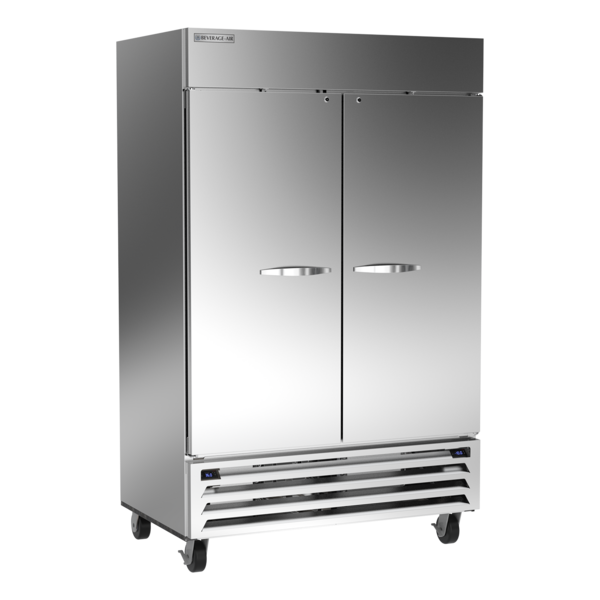 Here is a list of essential equipment that you will need for your company cafeteria and kitchen:
Mixers & Blenders
Refrigeration Equipment
Food Slicers
Commercial Ranges
Commercial Ovens
Sinks and Drainboards
Fire Extinguishers
Kitchen Shelvings
Cooking Utensils
Storage Cabinets
How to Manage a Corporate Cafeteria?
Corporate cafeterias are an essential part of corporate offices. But managing a corporate cafeteria can be challenging. You need to be aware of employee schedules to serve your employees in a fast and efficient manner. Also, company cafeterias should be cleaned thoroughly and kept hygienic throughout the day. You need to have enough cutlery and supplies to serve your workforce. Additionally, there should be enough seating arrangements for all employees when they arrive during breakfast or lunchtime.