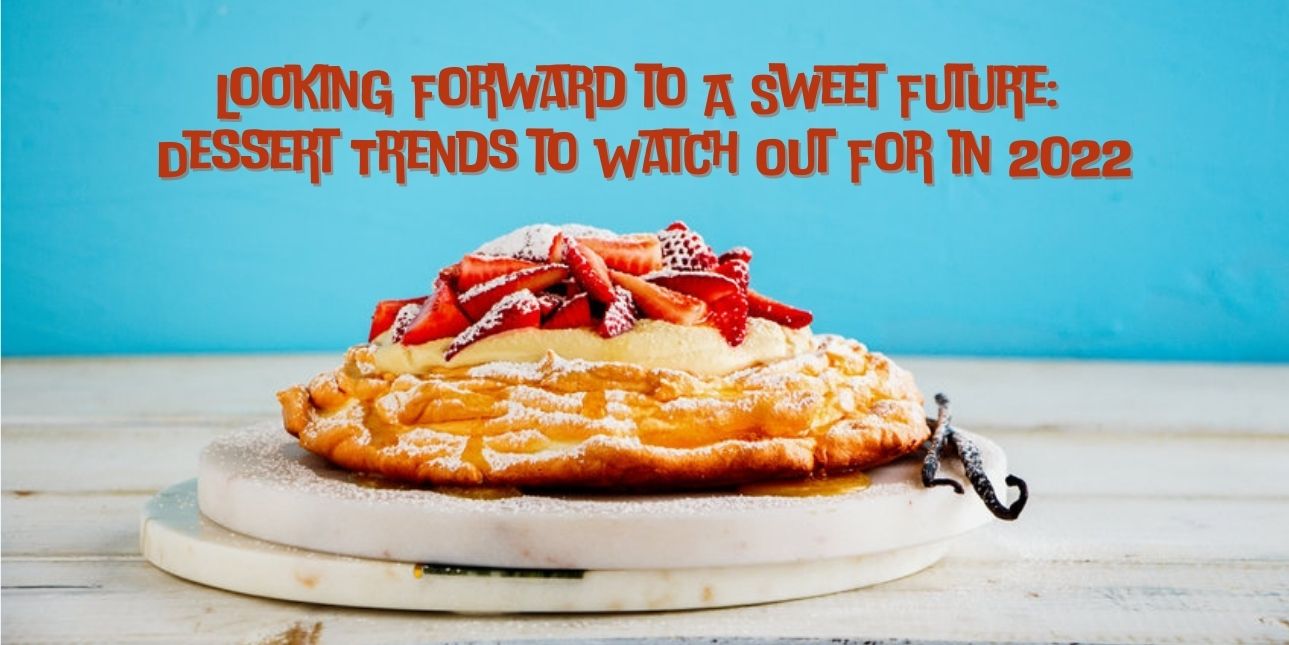 2021 was a big year for desserts, with people indulging themselves in a healthy dose of saccharine delights. However, with the rise of health-consciousness and multiculturalism expanding its footprint across the globe, a variety of new concepts have taken over the world of desserts and cakes. With customers signaling a return to designs that have a home-made and rustic finish, the dessert scene for 2022 looks like a blend of both new and time-tested designs.
With the flux and transformation brought about by the pandemic & its related world events, every sector in the market has seen significant changes in demand and its nature. This includes the dessert industry. With evolving dessert trends, businesses need to remain updated with what customers are really looking for. Several trending desserts, cake designs, and bakery trends that caught steam in 2021 are expected to gain even more traction in 2022 and beyond. For instance, some up-and-coming trends like the increased use of buttercream are re-igniting the buttercream vs. fondant debate. Another noteworthy mention is the use of fresh fruit - and it's creating a real splash. Read on as we discuss more trending desserts and cakes so you can make the best of them, and offer just what your customers expect.
Sugar-free Delights
People are more health-conscious than ever before, given the rising levels of diabetes and heart disease. The pandemic's effects motivated people to do more for their health, and the market for sugar-free desserts and cakes is ripe for the picking. This report suggests the global sugar-free market is expected to grow at a compounded annual growth rate of over 9%, and is one of the most popular trends in food & drink as a whole. Needless to say, sugar-free dessert trends will continue to make their mark in the dessert industry going forward in 2022. Diets like paleo and keto are pushing the sugar-free movement even further, and more people are expected to take up a healthier lifestyle. Market giants such as The Hershey Company, Kellogg, and Nestle have noticed, and are catching up with the dessert trend by offering an increasing number of sugar-free options to rope in health-conscious consumers.
Time Oat
As vegan diets and the plant-based movement continue to gather steam, we expect to see more oat-based desserts and cake trends. Oat milk has caught on as a very popular alternative to dairy, and conscious consumers are looking for oat milk desserts. Oat milk chocolate, ice creams, cakes, and pudding are slowly making their presence known in bakery refrigerators, and people have been quick to accept them. The global market for oat milk is only growing and is bound to accrue greater revenue according to projections. Oat milk is also gluten-free, an added incentive for gluten-sensitive customers. Incorporating oat-derivatives and options on your menu can help you expand your market, and bring in a vast array of customers looking for both healthier and vegan options to satisfy their sweet tooth.
The Wafer Paper Cake Trend
Wafer paper is turning out to be a very popular cake trend in the dessert industry, and more bakers are using it to craft delicately intricate floral designs for their offerings. The material has been around for quite some time now and is well-known for its natural feel. It has a texture similar to real flower petals and allows artisanal bakers to make the best of their talents, especially when they're baking wedding cakes. Wafer paper is also finding other applications apart from floral depictions, as it's a perfect material to create a texture similar to clothing. This medium is bound to make it big in the upcoming years and is surely a cake trend to deploy in your bakery. Considering the material requires an intermediate level of dexterity to manipulate, be sure to procure all the necessary baking equipment to help you in your craft baking projects.
Asian Delicacies
There has been a steep rise in the popularity of Asian dessert options, specifically in the deliciously quirky Japanese confections. Whether it's the delightfully large & soft pancakes or the irresistible Taiyaki fish, everyone's extremely fascinated with these extravagantly sugary offerings from the far-east. Following the Tokyo Olympics, the fascination with Japan and its cuisine saw a considerable increase. This also entailed a heightened interest in the dessert trends of the country. The dessert industry here in the West looks to benefit from the great trove of variety that multicultural cuisine can offer, thanks to both the curiosity it incites and the delicious experiences it brings.
A Taste of The Jungle
Animal prints got some serious attention in 2021, and this dessert trend is sure to catch on in the years to come, whether it's with cakes or cookies. If you're looking to attract customers with some eye candy - both literally and figuratively, then trying out animal prints in your offerings is sure to bring in a lot of business. From tigers to leopards, to other wildcats, animal prints bring about a piece of the jungle aesthetic to the plate and are a fine way to spruce up the variety in your bakery.
Pointillism Isn't Limited to Paper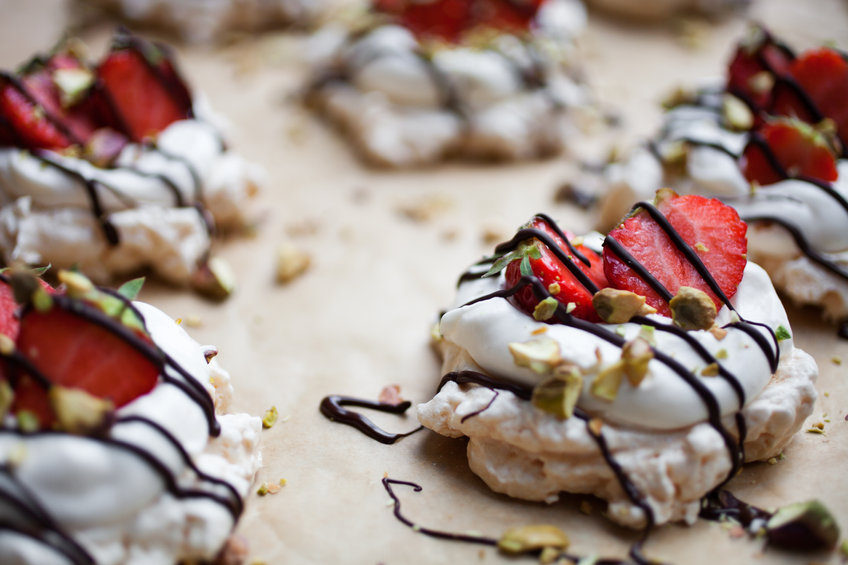 A lot of trending cakes are pieces of art, and dot art is making its way to the bakery. Though the art form is intricate and time-consuming, it has made quite the impression and is catching on fast in the dessert industry. The designs on the cake are first outlined, and then filled in with small points. Given the texture of frosting, the art bears quite a striking resemblance to beadwork. Despite this cake trend's complexity, the design and artwork are sure to grab eyeballs, and cameras, something that can improve your social media engagement.
Sculptural Cakes
The appetite for both dessert and art has grown and has now developed into a hunger for cakes that look like statues you'd never want to cut into. If you run an establishment where your customers truly appreciate the effort you put into the cakes you create, this dessert trend is worth trying. Cakes that are full of texture, whether it's an imitation of wood, clay, stone, or other everyday objects are quite the craze due to their sheer face value. You could take a look at examples so you know what is expected from an average sculpture cake. If you're willing to put out cakes on display that are worthy of having exhibits of their own, it's time to begin sculpting, albeit with cake.
Colors & Color Trends
The dessert industry, like other businesses, relies on color trends to identify shades that are expected to be in vogue. The Pantone Institute releases a color palette each year to help designers and artists understand color trends that are at the cusp of taking over. You can refer to their latest palette to understand the tones that you can incorporate into your confections. 2022's swatches celebrate rich textures of pink and green, a testimony to summer hues, followed by unmissable shades of aqua and lavender. These shades can help you create vivid yet soothing textures on your offerings.
Painting Without a Brush
Painted cakes are not new, but they're certainly getting attention lately. Using a variety of spatulas can bring about an artistic feel to your cakes. This dessert trend is another aspect of the artistic takeover of baking at large. If you're looking forward to a display of creative pieces in your bakery fridge, it might be time to hop on the spatula cake-painting bandwagon. You can use buttercream to paint anything from a simple hue to complex colorscapes. Each painted cake is capable of becoming a masterpiece in its own right, and can potentially earn you the accolades you deserve.
Stacking Done Right
One of the more modern takes when it comes to trending cake designs is an acrylic tier. The use of negative space has become an integral part of modern design, and bakers have taken this tenet quite seriously. Clear tiers have become fairly common in tiered and stacked cakes. These elements have contributed to both appearance and height at the same time. With the clear tiers giving rise to an illusion of a floating cake tier, co-opting this cake trend might just help you grab the attention of curious customers. In addition to the attraction it creates, clear acrylic cake tiers also bring about an appearance of more volume, adding to the 'wow factor' of the cake at large.
Landscape, But On a Cake
Another artsy dessert trend, and a derivative of tiered cakes, cakes representing landscapes, or seascapes like this one, are taking over the artisanal baking world by storm. Time-consuming and intricate, these pieces deliver when it comes to cake design and are some of the most trendy desserts out there. Buttercream, colors, and cake sponge come together to create a realistic impression of real-life sceneries. If you're looking to create a real showstopper at your bakery, this might be it. What these cakes lack in height, they cover up in sheer artistic brilliance.
Woven Cakes
The dessert trends that include mimicking textures on confections are far from gone, and woven cakes are proof that these designs are still in vogue. Whether it's a conventional basket weave or a complex textile tapestry like these, woven cakes are extremely popular. With ample play on colors and textures using buttercream, nearly every fabric is possible to mimic. If you're thinking about taking up knitting or weaving, you might as well do it while at the bakery.
The Outlook
With the world finally coming out of a prolonged period of shutdowns, consumers are bound to expect newer experiences in their desserts. The past two years have helped usher in a metamorphosis in the food and drink industry, and this is bound to impact desserts at large. By catching up on the latest dessert trends and trending cake designs, you can be ready to provide the best of trendy desserts to your customers.