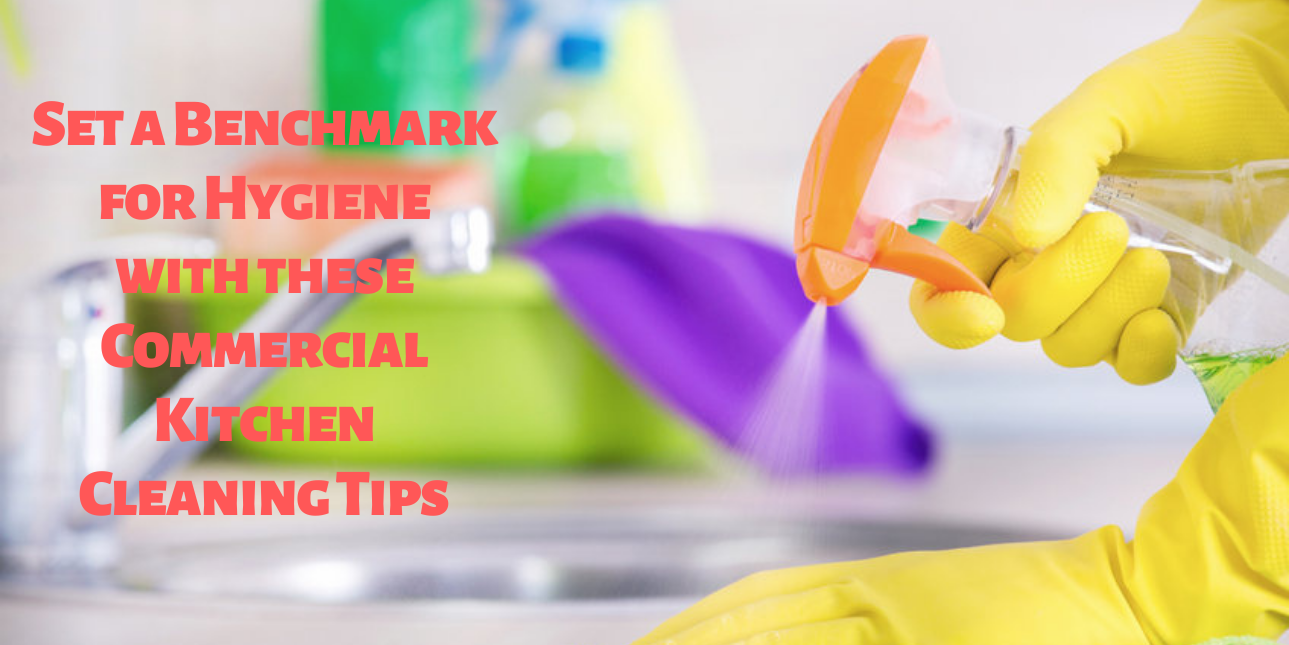 Cleanliness forms the basis of how your commercial kitchen is perceived. Whether it's a restaurant, institutional kitchen, food truck, or cafe, a clean kitchen is what will get you through health inspections consistently and also help you build a pristine reputation with the customers. Commercial kitchen cleaning is not as straightforward as cleaning other establishments, as there are several areas to be addressed and sanitized thoroughly. It's important to set a rock-solid protocol to make sure your staff maintains a clean restaurant kitchen. Most air-borne, food-borne, and water-borne diseases can be avoided by putting in place commercial kitchen cleaning procedures.
An establishment that doesn't undergo regular restaurant kitchen cleaning is bound to run into trouble, not only because of the vigilance of the food & health department, but also because disappointed customers are bound to spread the. In the information age, reputations are tarnished quite easily. Be sure to maintain a spotlessly clean restaurant kitchen just as you would your public image. We discuss various methods, hacks, and techniques to help you put in place well-rounded and effective commercial kitchen cleaning practices so you never have to worry about viral negative reviews or failed inspections.
Keeping the Floors, Walls & Ceilings Squeaky Clean
The most conspicuous aspects of a commercial kitchen are the floors, walls, and ceilings. These surfaces are also the most prone to grease, grime, and residue buildup. The first step in how to clean a restaurant kitchen begins with keeping these surfaces maintained well.
Restaurant kitchen cleaning can start with vacuuming the floor to remove any outstanding impurities like dust and loose grime.
Not only do food and beverage spills create greasy layers on the floor, but they also worsen over time, thanks to the continuous foot flow over the kitchen floor.
Your janitorial staff can then mop and scrub the floor with a special concoction of vinegar, surface disinfectant, and warm water to remove the remainder of the dirt, residue, and grime.
If a machine helps your staff cut down on cleaning time, it could be a viable option. However, it's the mops that reach the most inaccessible areas with minimal effort that make for robust cleaning. A combination of both methods should help with structuring effective commercial kitchen cleaning methods.
Any spills on the floors or walls must be wiped down with a powerful anti-grease solution. A clean restaurant kitchen requires the solution to soak for a short period so it can emulsify and detach the oil particles from the surface before being wiped away.
A biweekly scrubbing protocol can be instated to undo the grease buildup on the walls and ceilings that have been inflicted by steam and oil fumes. You can use degreasers, heavy-duty brushes, and washcloths to help with this aspect of commercial kitchen cleaning procedures.
Make your Countertops & Surfaces Shine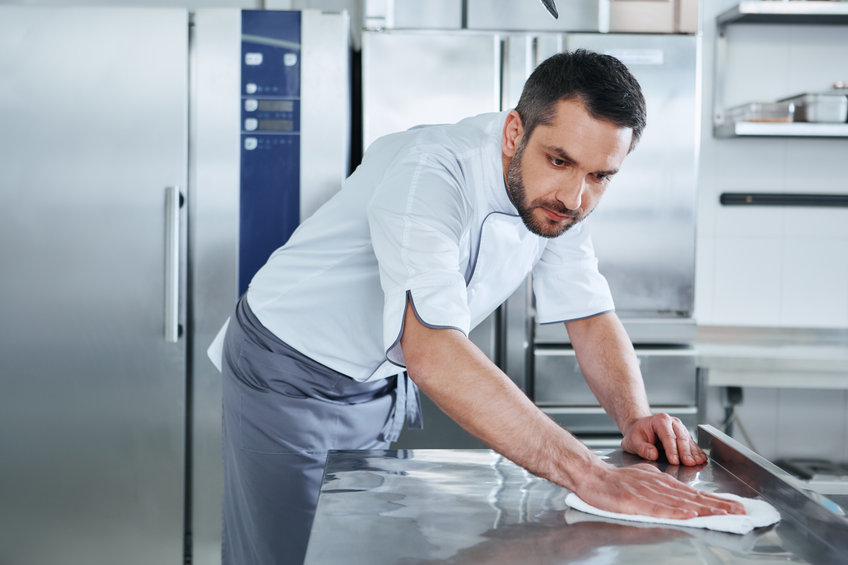 Your staff uses the hard surfaces and countertops the most to prepare dishes for your customers.
Countertops are some of the most important areas of your commercial kitchen, and maintaining a clean restaurant involves disinfecting them at least twice a day.
Make sure your cleaning staff removes all the equipment, bins, and storage containers on the countertops, and then proceeds to use surface cleaning solutions, degreasing solutions, and surface disinfectants for the best effect.
The surface must dry out completely before placing the equipment and storage bins back on the countertops.
Restaurant kitchen cleaning also involves removing built-up gunk and spills using a cleaning solution and a brush or washcloth.
You can use the same techniques to clean the exteriors of large appliances such as restaurant refrigeration units' doors, freezer chest doors, and sheet-rack oven panels.
Maintain the Ventilation Systems, Air Filters & Ducts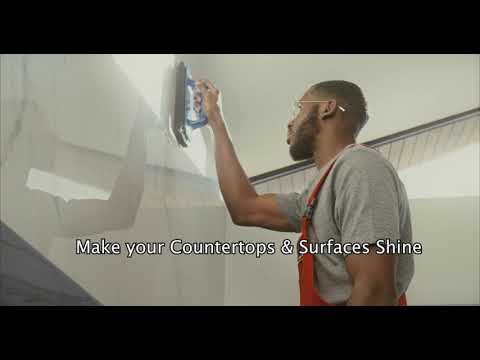 Exhausts and vents are bound to take the maximum deposits from steam and grease residues. An unclean ventilation system is not only inefficient but also gives off strange odors, compromising the integrity of your commercial kitchen and the establishment as a whole.
The vent hoods must be detached from the system and washed in a warm water soap bath regularly.
Kitchens producing large amounts of fried and spicy food must clean and degrease the filters regularly to maintain a clean restaurant kitchen.
Physical care must be taken to not damage the vent hoods and filters while cleaning them as they can be rather delicate and sensitive to damage. Make sure to follow all company instructions while cleaning these elements of your commercial kitchen.
Always have replacement filters on standby in case you spot any damages in these systems. This helps you not derail the ventilation system in your kitchen and keeps the kitchen functioning without any hiccups.
Cleaning the Cleaning Areas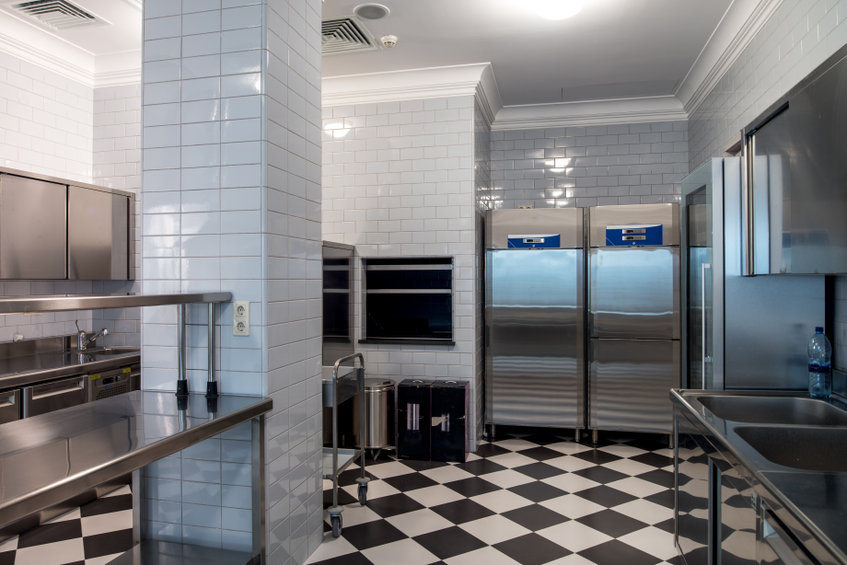 The ware washing section in the commercial kitchen is of paramount importance as it is the one that most directly influences the cleanliness rating of your commercial kitchen.
A clean restaurant kitchen is of no use unless your dishes, glassware, and cutlery are sanitized efficiently, and this begins with the cleanliness and sanitation of your establishment's sinks and ware washing areas.
Instruct your janitorial staff to disinfect and degrease the sinks, backsplashes, and drainboards to prevent a build-up of residue and stains.
A weekly or biweekly de-liming of the pipes, taps, faucets, and hoses goes a long way in improving plumbing efficiency and is an important part of cleaning commercial kitchens.
Restaurant kitchen cleaning also involves cleaning out the drains regularly. The drains in commercial kitchens are prone to get clogged by grease, grime, and remnants of food particles that are washed out during the sanitation process.
A strong drain cleaner followed by a powerful degreaser poured down the drain should go a long way in maintaining a clean and unclogged drain, making this an important commercial kitchen cleaning procedure. Drain cleaning can be carried out weekly.
Commercial Kitchen Equipment Cleaning for Comprehensive Hygiene
Commercial kitchen equipment sees the highest and most consistent amount of activity, and can become dirty fairly quickly. Maintaining a clean restaurant kitchen involves cleaning each piece of equipment individually and regularly, depending on the extent of usage.
A monthly or bi-monthly cleaning of the condenser coils in your commercial refrigerators and freezers is imperative to extend their functional lifespans. The vents and other internal areas can also be vacuumed before a deeper cleanse. The external surfaces must be addressed in methods applicable to hard surfaces once or twice a week. The drain trays must be cleaned daily.
All ovens must be cleaned thoroughly at least once a week, with trays, walls, doors and the roof being degreased and disinfected at least once a week.
Ranges including the burners and cooktops must be brushed and degreased every day to maintain a clean restaurant kitchen.
Griddles should be cleaned and degreased after the cooking operations every day. Regular draining and cleaning of the drip trays must be included in your commercial kitchen cleaning procedures as well.
Grill grates can be soaked in warm soapy water before being degreased, scrubbed, and sanitized every day.
Beverage units, water dispensers, and spigots must be cleaned either every day or every alternate day. Units handling dairy products require more regular cleaning than other liquid dispensers.
Maintain a Sanitary Storage Space
While regularly accessed storage spaces like walk-in refrigerators and coolers require more frequent cleaning, storage racks, shelves, and closets must receive a deep cleaning every couple of months.
Make sure your janitorial staff sweep and wipe the floors of the walk-in refrigeration units daily to maintain a sanitized environment within.
Prioritize heavily accessed storage spaces for more regular rounds of sanitation to have an organized commercial kitchen cleaning protocol in place.
Whether it's the humble coffee maker or the expansive commercial refrigerator, or the walls and the vents, commercial kitchen cleaning comes with a lot of effort, planning, and schedules put in place. However, the effort always pays off as customers never fail to notice a well-maintained and sanitary food operation, making sure you and your staff are appreciated for it.