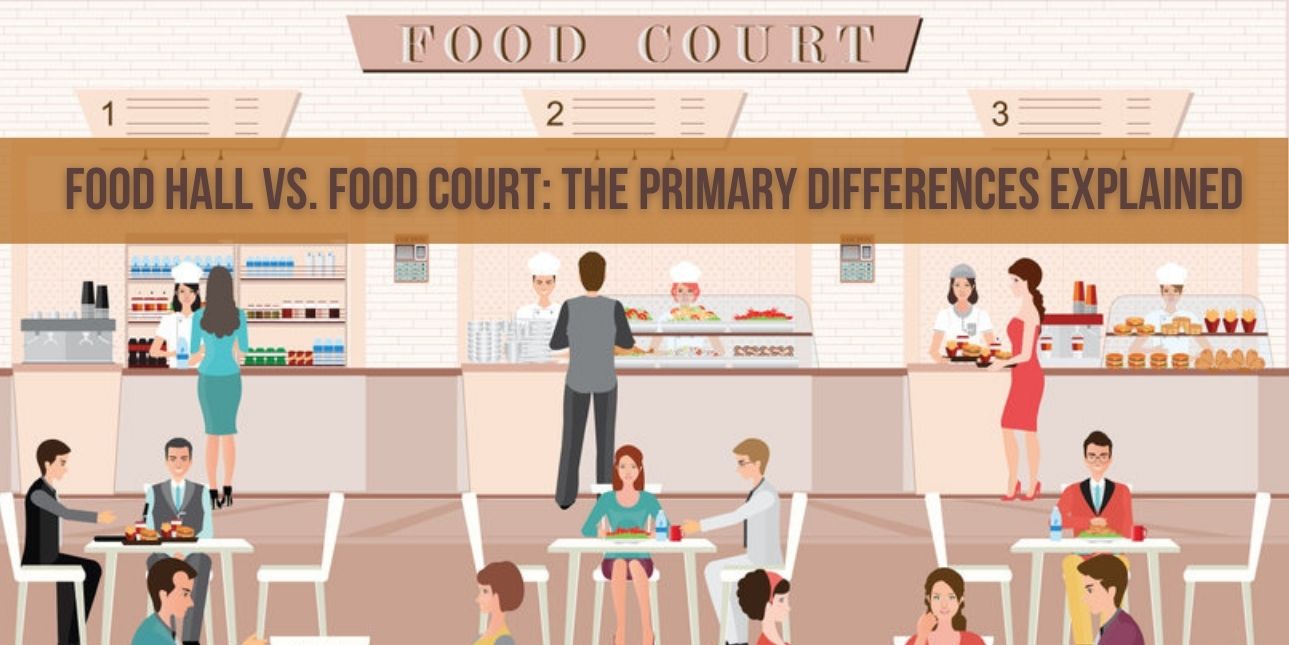 Food halls are gaining popularity globally. Food halls provide various menu offerings, dining options for groups, and a unique dining experience. Unlike food courts which offer foods from fast food chains, most food halls serve delicacies from local food vendors and niche foodservice businesses.
In this article, we discuss what a food court is, what a food hall is, the differences between a food hall vs. a food court, the food hall business model, and the different types of food halls.
What is a Food Court?
Food courts mostly feature multiple fast food vendors and fast food chains. In a typical food court, you can find a burger joint, a pizzeria, an ice cream parlor, a hot dog place, a dessert shop, a bakery, and a cafe. Some high-end food courts also have vendors that serve global cuisines.
Food courts are perfect for grab-and-go eaters. The overall dining experience and ambiance of a food court are similar to an assortment of food trucks serving at the same location. Food courts are designed for efficiency, quick service, and affordable dishes. Aesthetically, they only offer color-coordinated interior furnishing and essential equipment. In malls, food courts are designed to keep customers shopping; customers can re-energize when hungry without leaving the mall.

What Is a Food Hall?
Food halls offer large cafe-style settings where patrons can choose from various cuisines. Food halls are typically a blend of local artisan restaurants, food-oriented boutiques, and butcher shops. They are also called gourmet food halls. They offer large seating capacities with counter-service. Food halls are the perfect hangout spaces for tourists and locals. Tourists can try various local delicacies under a single roof; they can try various local desserts, appetizers, beverages, and entrees. Food halls are popular among new foodpreneurs and chefs who want to explore setting up a shop.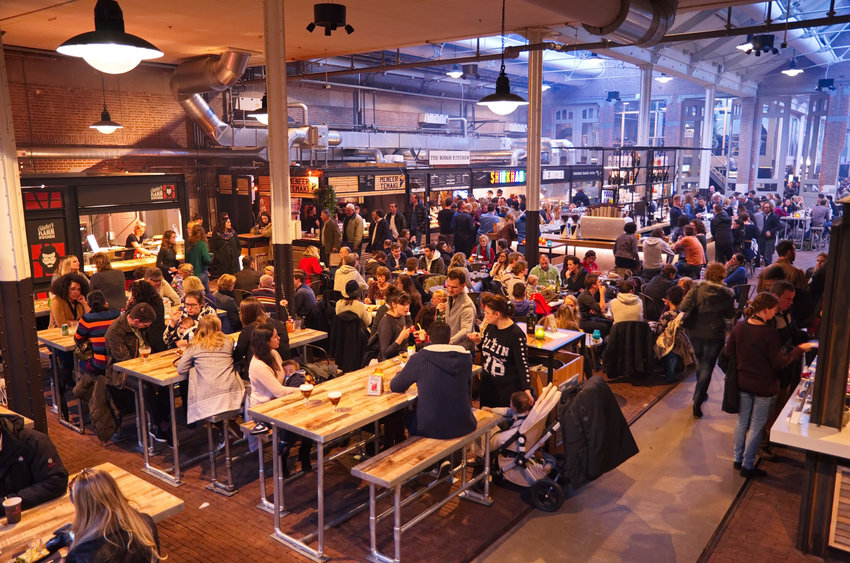 Additionally, food halls provide a curated and alternative dining experience. In this setting, food and beverages are cooked from scratch. You can find aesthetically pleasing artwork, contemporary or classical furnishings, and unique experiences designed for patrons. They are mostly operated from independent locations. Some old warehouses, train stations, old mills, and buildings with high ceilings are redesigned as food halls. Most food halls offer a blend of historical significance with unique dishes. They provide more freedom to the patrons than most restaurants and foodservice establishments.
Food Hall Vs. Food Court
There are some differences between a food hall and a food court. Food halls provide a curated dining experience for patrons, while food courts feature multiple fast-food operators. In food halls, local chefs and restaurateurs offer an assortment of unique recipes where most recipes are prepared from scratch with natural ingredients. Fast food courts are designed for quick food bites for patrons. Most ingredients are either frozen or pre-prepared in the food court to cut down on cost. While in a food hall environment, a group of friends and family can relax with artisanal food. They are designed aesthetically to inspire a city's social nucleus. Food courts are mostly uninspiring and are designed for a transactional or objective-oriented experience. They are also uninspiring regarding the depth of the cuisine being served.
Food Hall Business Model and Advantages
Adopting the food hall concept can be profitable for new and upcoming foodservice ventures. New restaurant owners and small business owners can save on utilities, safety codes, and maintenance. They can effortlessly rent food hall space for their business.
Here are some advantages of food halls:
Investment: Aspiring foodpreneurs and chefs have limited startup capital. The initial investment cost of setting up your food service in a food hall is lower than setting up a traditional brick-and-mortar store. You only need to invest in reliable, convenient, and innovative reach-in refrigerators, reach-in freezers, and various equipment for better efficiency.
Low Risk: Food halls are a low-risk investment, as you can save thousands of dollars by renting space in a food hall. Most foodservice businesses operating from food halls turn profitable in a short period.
Maintenance: With food halls, maintenance and cleaning are taken care of by the food hall owner or administration. You are not responsible for maintaining the building, parking lot, and washrooms.
Test Your Concept: Food halls are great for newbie foodpreneurs; you can test various cuisines and dishes without high investment. You can take feedback from customers on dishes to improve and improvise. Food halls are a great testing ground for the viability of your foodservice business.
Build Your Brand: The food hall administration does most of the day-to-day activities in food halls. You can focus on building your brand, improving your recipes, and marketing.
Various Choices: Food halls are perfect for groups. In a food hall, everyone can dine together and choose from multiple cuisines. They also provide an excellent ambiance for conversation with friends and family.
Better Lifestyle for Owners: The restaurant lifestyle takes a toll on the health of food service owners. With food halls, you can avoid significant stresses that can affect your health in the long term. Food halls operate for limited hours daily, which is great for work-life balance.
List of Things You Need to Become a Food Hall Vendor
There are some things that you need to become a food hall vendor.
Business Plan:

You will need a well-researched business plan before starting your venture. Your business plan should factor in your financial history, and include a list of necessary equipment, a financial plan, and a restaurant concept.

Financial Plan and Projections:

You need to have a clear financial plan for your business. Your financial plan and projection will include initial investment, projected income, equipment cost, rental expense, and any other expenditure for the first year.

Restaurant Concept:

A restaurant concept is essential for food halls. They mostly look for ideas that are unique and can enthrall customers. Put together a brief description of your restaurant or the dishes you wish to serve in the food hall.

Equipment Plan:

You will need to have a clear and concise plan on all essential equipment for foodservice operations. For setting up shop in a food hall, you will need high-quality

commercial refrigerators

, cookers, ranges, and blenders.
Different Types of Food Halls
You can choose a multi-vendor food hall or a multi-concept food hall. Multi-concept food halls are usually operated by single vendors. The owner or operator of the food hall has the liberty to try various concepts and dishes. While in multi-vendor food halls, you can lease out space and start serving your patrons. Food halls rent out spaces in the short term or long term. Choose a contract depending on your foodservice business needs. If you start a new brand with a limited budget, it is recommended to select a short-term contract.
Food halls are gaining traction worldwide as patrons return to dining in groups. Food halls are designed to support local food service businesses and foodpreneurs. They are ideal for smallscale foodpreneurs to launch their brand and dishes. Owners can test various dishes and recipes to check what works well with customers. Food halls are focused on serving the best local delicacies to patrons, while food courts are only designed for efficiency and to keep customers shopping in a mall. Food halls are witnessing a growth surge because of the benefits they offer to foodpreneurs and patrons.