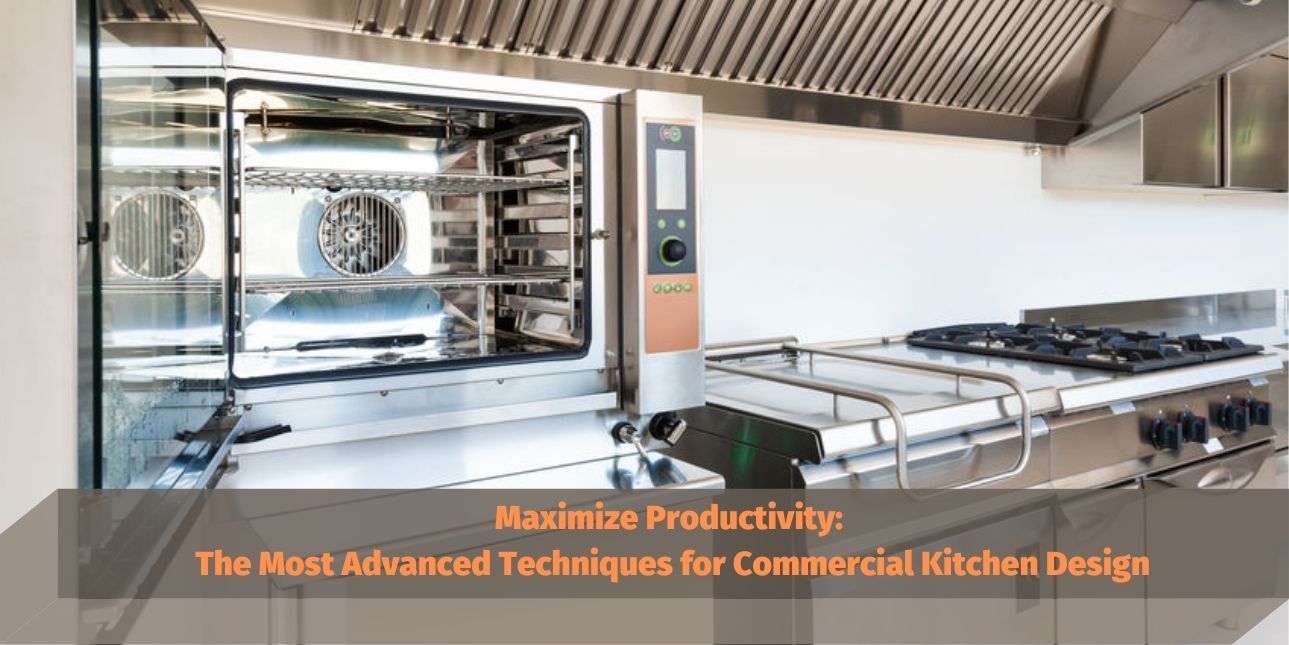 When you're building a restaurant or renovating an existing establishment, the most important part of the process is commercial kitchen design. The commercial kitchen layout serves to run almost the entire operation and it is only imperative that you invest the requisite amount of time, effort, and planning into it. Despite the restaurant's front house and floor getting maximum attention, it's the restaurant kitchen layout that makes sure your staff is able to carry out all of its tasks without getting overwhelmed by chaos. Efficient designs serve to help your staff work efficiently without investing too much effort in each task they're assigned, improving the overall efficiency, turnaround time, and customer satisfaction.
Each establishment has a unique and nuanced approach to cooking, floor management, service, and logistics. This means there's no one-size-fits-all solution to commercial kitchen design, however, there are several tenets to effective layout management that you can incorporate into your establishment's kitchen. We take a look at a few general rules of thumb and certain considerations you should make before going ahead with your commercial kitchen layout.
Important Considerations for Commercial Kitchen Layouts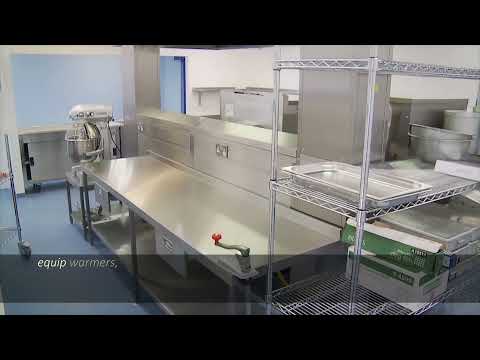 Here are the most important factors to look at before planning out your commercial kitchen:
Understand the Available Space
When you're designing a commercial kitchen layout, a good understanding of the total area, power supply and outlets, plumbing, and ventilation, is essential knowledge. Ideally, the distribution between the dining area and the kitchen is a 60:40 ratio, with the smaller part being assigned to the kitchen.
Study your Menu
Understanding and knowing your menu in detail allows you to know where you need to store material, where, when, and what you need to cook, along with the equipment you require to make your preparations. It also helps you with deciphering prep times, cooking times, and delivery times. Supposing you have seasonal specials and varying menus for different periods of the year, it also helps to have movable storage parts in your kitchen so your staff doesn't spend too much time moving around to get things done.
Rope in your Chef
Your Chef knows best as to what goes on in the kitchen and when. It is important you always involve your chef in commercial kitchen design. Not only does the chef know the ins and outs of your menu, but they also know the kind of raw material, storage, equipment, and the kind of functioning required to get those items on your menu out on time. If your chef misses out on the planning of your kitchen, the establishment often ends up in chaos and disarray.
Be Thorough with the Health Codes
Before you begin planning your commercial kitchen layout, we advise you to procure all of the applicable licenses and permits that you may require. It is also important to have a thorough knowledge of guidelines set up by institutions such as the Food and Drug Administration (FDA), the local public health departments, and those laid down by the Occupational Safety and Health Administration (OSHA). Knowing and abiding by these guidelines helps you with a restaurant kitchen layout that is in line with all the safety protocols advised by the regulatory agencies.
Activities of A Commercial Kitchen
Each commercial kitchen sees a slew of activities each day. It only makes sense that your kitchen be able to perform these basic tasks seamlessly, without causing your staff distress and helping them maintain perfect workflow. The basic functions of a commercial kitchen are:
Storage & Inventory
A restaurant requires several materials to function. Whether it's consumables, tools, or equipment, your commercial kitchen needs ample storage space so you can hold on to the ingredients that make your establishment work. Planning out cupboards and cabinets for tools, ample pantry space for dry, non-perishable material, and commercial refrigeration for all of your perishables like meat and produce is essential for effective inventory management.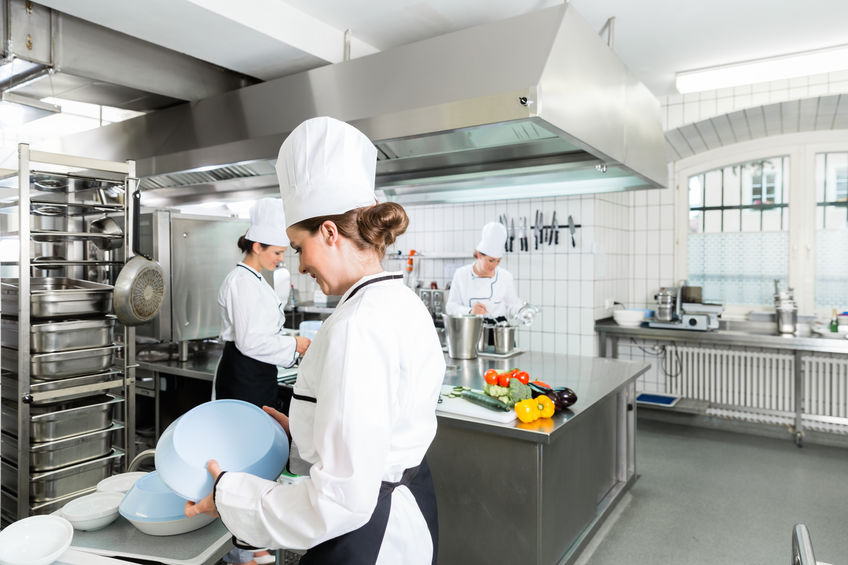 Food Preparation
Based on the volume of food you prepare each day, your commercial kitchen layout will have to be incorporate sufficient food preparation space. This includsmall restaurant kitchen designses countertop areas, cutting boards, chopping tools, and processing equipment. Food preparation areas must be away from the ware washing zones to prevent contamination. At the same time, it would be wise to have the food prep areas close to commercial freezers and roll-through refrigerators for your staff's ease of use.
Cooking & Meal Preparation
This area is by far the one that sees the most activity. It is also one of the most important locations in your kitchen. The catering kitchen layout must include an adequate number of commercial ranges, ovens, fryers, cooking stations, specialty cooking equipment, and sufficient vessels so your cooking team runs smoothly and without any snags. Outfitting this area with a kitchen display system (KDS) is also one of the most effective ways to boost communication between your teams. Whether it's a small restaurant kitchen or a large one, cooking and meal preparation areas require a lot of attention and ingenuity.
Delivery Bay
A dedicated area for embellishing and serving your cooked food into designated dishes is an absolute necessity. This part of the restaurant kitchen layout must be placed closer to the dining area for seamless mobility of serving staff. This is an important part of commercial kitchen guidelines as it prevents your staff from expending too much effort walking around collecting each order from different sites in your kitchen. Delivery bays will also do good to equip warmers, which help prevent prepared food from cooling off too quickly.
Cleaning & Maintenance
The dish return areas must be closer to the ware washing areas so that your maintenance staff doesn't have to labor with the used-up dishes to get them to a washing space. It is ideal to have compartment sinks to service your ware washing station alongside dishwashers that look after the cleaning and sanitation. Equip this area with abundant maintenance cabinets so that your back-house staff doesn't have to rummage through other areas looking for their equipment. Also, make sure that waste disposal units are close by to manage leftover food and material.
Commercial Kitchen Layouts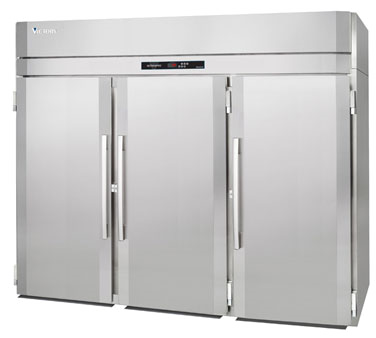 Whether small commercial kitchen design, catering kitchen layouts, compact commercial kitchen plans, or restaurant kitchen layouts for large industrial kitchens, there exist certain templates that can help you plan your way forward. Some of the classical design plans for commercial kitchens are:
Island Floor Plan
With the meal prep and cooking area restricted to the center of the kitchen, much like an island, other areas are assigned their corners. This layout allows ease of movement and free space for easy maintenance. Due to the isolated placement of each area, a kitchen display system over each area would help maintain communication lines.
Zonal Floor Plan
This plan divides your kitchen into separate zones, each meant for a certain activity. Each zone is designated as a cooking zone, prepping zone, ware washing zone, storage zone, service zone, and maintenance zone. This layout helps you maintain an interconnected and well-managed workflow throughout your kitchen floor.
Assembly Line Floor Plan
This layout is ideal for establishments that have a large volume of customers each day and stick to serving a similar variety of food. With the food prep, cooking area, and servicing bay on a single stretch, it makes it easy to service the line based on customer flow. The cleaning and maintenance areas are placed behind these zones to prevent cross-contamination and hindrance.
Irrespective of what plan you choose to go with, make sure you incorporate the best practices, health codes, and energy-efficient methods to help you save both cost and effort. Commercial kitchen design involves a lot of planning and requires you to take into stock a variety of variables. Be sure to prefer modular arrangements over static ones to prevent any hold-ups in your kitchen in case there are technical snags.