Understanding Professional Kitchen Hierarchies: What are the Different Types of Chefs?
Successful restaurants have a highly efficient organizational structure. The reason behind their precision and fast pace is military-style teamwork between the different types of chefs. Kitchens use Escoffier's kitchen brigade concept to set a hierarchical system that operates like a well-oiled machine.
Since the 19th century, the kitchen brigade system has optimized the organizational hierarchy of commercial kitchens. BOH, or back-of-house operations, heavily depend on the divide-and-rule hierarchy for their increased productivity and efficiency in a commercial setting. This system, responsible for the precise diversity of chef roles in the kitchen, has become the basis of all modern-day kitchen operations. With this system, managing kitchen staff can be a hassle-free affair. In this comprehensive guide, we discuss the types of chefs in a professional kitchen, the nitty-gritty of the kitchen brigade system, the think tank behind it all, kitchen positions, and the positions put in place by Escoffier in organizing a commercial kitchen.
What is a Kitchen Brigade System?
High-end commercial kitchens follow a strict military-style framework for hiring and managing kitchen staff. Though current kitchen systems do not follow the original system in its entirety, their organizational structure is based on the original brigade system created by Auguste Escoffier. This particular hierarchical system can precisely set the responsibility of each station in a commercial kitchen and is primarily responsible for the modern division of chef duties. Understanding the original brigade system can give us important insights into the kitchen hierarchy and its modern, improved version found in kitchens across the world today.
Who Developed the Kitchen Brigade System?
French chef Georges-Auguste Escoffier, famously known as 'The King of Chefs' or 'The Chef of Kings', first developed the kitchen brigade system in the 19th century. Escoffier modernized and simplified the kitchen system. He developed "Brigade de Cuisine," the inspiration for modern kitchen systems. In "Brigade De Cuisine," chef roles in the kitchen and their responsibilities are clearly defined. The modern kitchen brigade system draws inspiration from Escoffier's experience from the Franco-Prussian war when he served as a chef in the French army.
Kitchen Hierarchy in the Brigade System
Since the army's hierarchy inspired the Escoffier's system, the executive chef or head chef, leads the operations. The chef de cuisine is second in command. The third position in the chef hierarchy is the sous-chef, or sous-chef de cuisine.
The sous chef oversees and supervises the line cooks, chefs de Partie, and other chefs responsible for various operations in larger commercial kitchens. Restaurant kitchens have a number of chefs: Patissier or pastry chef, Boulanger or baker, and Glacier or frozen dessert chef. Commis chefs or junior chefs assist these positions and are responsible for smaller tasks in a restaurant kitchen.
What are the Different Types of Chefs?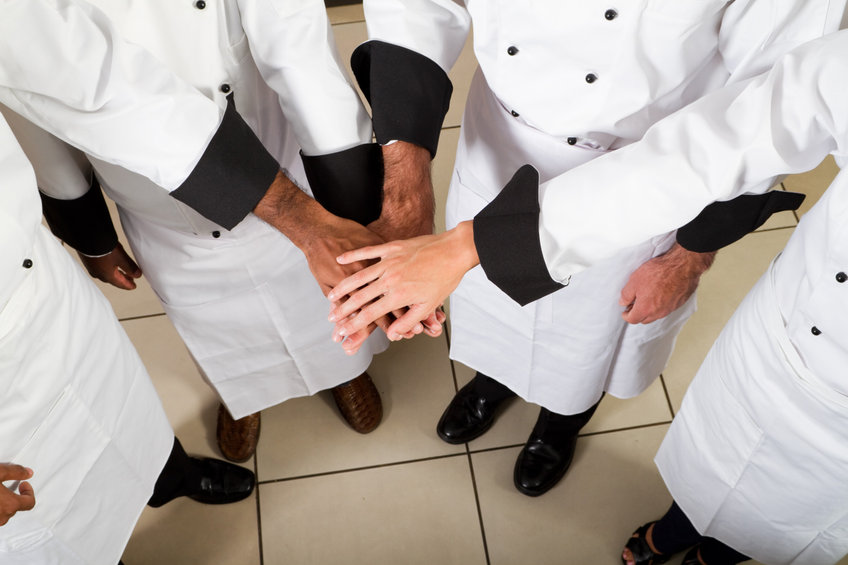 There are different types of chefs and a variety of categories that form the kitchen brigade system. These positions have been made to outline different chef roles so that each employee can be at the helm of various duties in a restaurant kitchen. Here is a list of the most common types of chefs and cooks that the French brigade system created:
Executive Chef or Head Chef: The head chef in a commercial kitchen can be termed as the CEO of a kitchen. In large restaurants, the role of an executive chef is to take strategic business decisions, design the menu, and set the theme for the restaurant. They're not involved in the day-to-day operations of the kitchen. Instead, these types of chefs in a professional kitchen take up a more managerial role and leave the hands-on duties to their subordinates. Executive chef is also responsible for the kitchen equipment, including commercial refrigeration equipment.
Chef de Cuisine:

Chef de cuisine manages the restaurant kitchen and collaborates with the restaurant manager when needed. The chef de cuisine is responsible for managing the day-to-day operations of the restaurant. The kitchen position comes immediately under the executive chef in a structured chef hierarchy. Additional responsibilities include overseeing kitchen staff, taking care of the hiring process, and inventory or stock management. Another critical task of the chef de cuisine is maintaining health and safety regulations and avoiding health code violations. The chef de cuisine executes the executive chef's vision by maintaining the highest standards of quality and efficiency.
Sous Chef de Cuisine or Sous Chef:

The sous chef oversees all operational responsibilities in a restaurant kitchen handled by other cooks and the subordinate levels of chefs. A sous chef works under chef de cuisine and ensures the remaining strata of the chef & kitchen hierarchy function like clockwork.
Chef de Partie or Line cook:

The kitchen brigade system has multiple stations for food preparation, each designated to a particular kitchen position. A line cook or the chef de Partie is responsible for managing and overseeing each station in a brigade system. Their titles and duties depend upon their stations.
Saucier:

A saucier is responsible for creating delicious sauces.

Grillardin:

A grillardin or grill chef is responsible for grilled food items like grilled chicken or fish.

Boulanger:

A Boulanger is responsible for making baked goods in a large restaurant kitchen. They are responsible for making various types of bread or baked desserts.

Fritutier:

A fritutier line cook makes fried items.

Patissier:

Making delicious pastries is the primary responsibility of the Patissier or pastry chef. Pastry chefs can be assisted by decorateurs specializing in intricate designs, a glacier specializing in making ice creams or sorbets, and a confiseur responsible for making candies and confections.

Entremetier:

An entremetier, sometimes called a vegetable chef or meat chef, depending on their assigned station, is a type of chef in charge of making entrees with vegetables, meat, and eggs. They oversee Poissonnier or fish dishes, rotisseur or braised meats, legumier or vegetable dishes, and potager or soups.
Demi-chef:

A demi chef is an assistant to the chef de partie, and they are responsible for preparing dishes for their chef de partie. Also, they assume control of a kitchen station in the absence of a line chef, moving up the kitchen hierarchy when necessary.
Commis Chef or Junior Chef:

According to Escoffier's brigade system, the line chefs are assisted by commis chefs or junior chefs. Junior chefs work at different stations under line chefs in the chef hierarchy, and they execute various dishes depending on the station they have been assigned. A commis chef to a grillardin will help grill meat, fish, or chicken, while a commis chef to a saucier will help make different types of sauces.
Plongeur or Dishwasher:

A dishwasher or plongeur is a vital job in any kitchen. They are responsible for cleaning dishes and equipment in a commercial kitchen. Plongeurs can be permanent or temporary kitchen staff, who are hired depending upon the volume of operations.
Aboyeur:

Aboyeur or expediters are the primary links between the kitchen and the dining area. They take orders from patrons and convey the orders to the kitchen staff with speed and precision.
Boucher chef

: Boucher or butchers are responsible for all types of butchery-related services; they cut or dice meat, fish, and chicken depending upon the requirements.
Tournants:

Tournants are commonly known as swing cooks or 'roundsmen.' Tournants are highly flexible and are trained to work with any station. Depending on the requirements, a tournant can make desserts, entrees, baked goods, and grill items. They do not fall under the 'types of chefs' categorization and also have a rather mobile role when it comes to the kitchen hierarchy.
A sound understanding of the different types of chefs and how they factor into the brigade system is essential to creating an organized commercial kitchen. Enforcing a kitchen hierarchy ensures even the minutest of tasks is carried out to perfection. Different kitchen positions bring about accountability and division of labor in a hectic environment, creating an airtight back house system for your food business.