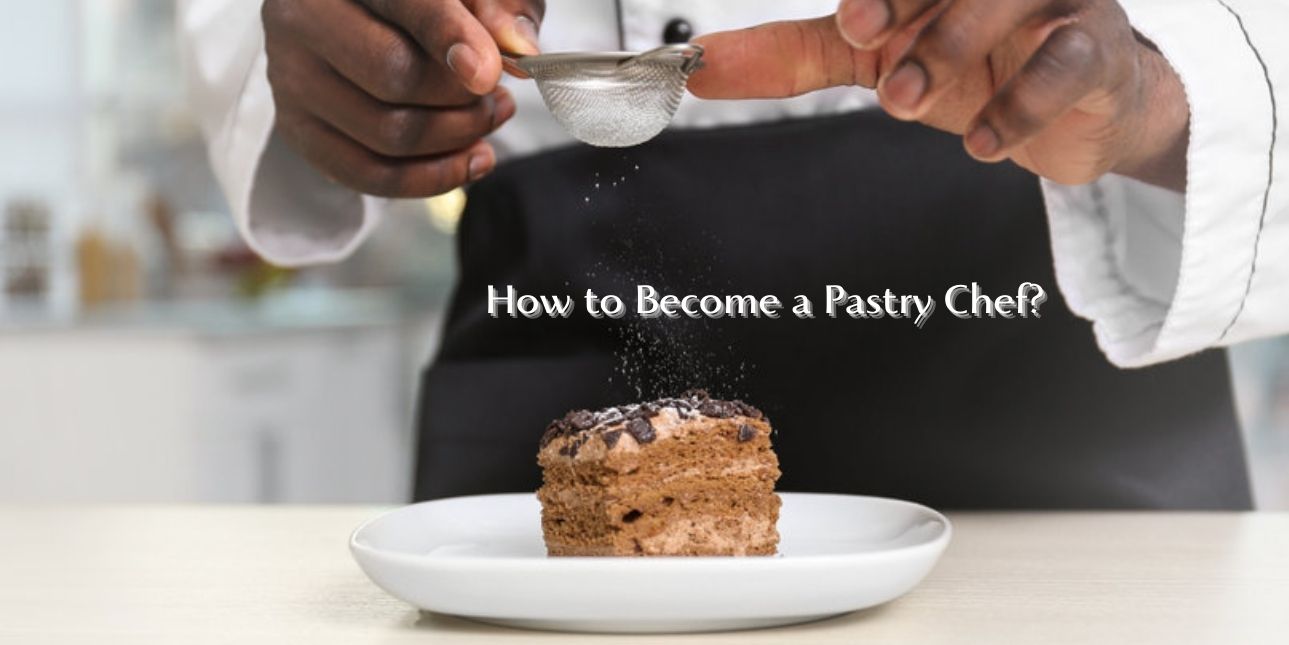 While cooking in the kitchen takes a special kind of grit, attention to detail, and the ability to work under pressure, a pastry chef's job requires an even higher degree of patience and focus to get the confections right. A pastry chef is called a patissier in culinary jargon and works with several different sweets and baked goods. These include cookies, candies, cakes, tarts, pastries, and special bread. If you're wondering how to become a pastry chef, you're not alone. Thousands of aspiring culinarians look to achieve the prestigious title of 'Patissier', a position that comes from years of hard work and creative excellence.
But we're here to simplify the 'How to' part of it for you. We've put together a set of essential details you must know before you set out on your journey through kitchens and bakeries to perfect that combination of sugar, spice, and everything nice. Read on as we discuss common questions like 'What does a pastry chef do?' and 'How long does it take to become a pastry chef?' in the sections below.
About Pastry Chefs
Pastry chefs are specialist culinarians that work with sweets and baked foods. However, this does not mean they can't handle other activities in the kitchen. Most pastry chefs would have worked in several different areas of the kitchen as regular chefs or cooks over the years before specializing in pastries, desserts, and confections.
The title of a pastry chef is sometimes also a promotion offered to chefs that show excellence and creativity in the desserts section, allowing them to focus solely on their gift of creating saccharine delights. Pastry chefs can then choose to further their skills by specializing in specific types of pastries and other desserts or continue creating different desserts in the kitchen or the bakery.
Pastry chefs are often expert bakers that know how to manage proportions and time to provide perfect consistency across their creations. These specialist chefs also have a penchant for minute details and are adept at whipping up their own versions of time-tested favorites.
What Does a Pastry Chef Do?
So, what does a pastry chef do in the kitchen? A patissier prepares and creates several desserts from scratch. Patissiers can either prepare sweets from existing recipes or create their delicacies. Most commonly, pastry chefs prepare pastries, cakes, tarts, candies, cookies, biscuits, and even certain varieties of fine chocolate.
Pastry chefs with long-standing experience in the dessert section might further dedicate their expertise to preparing a few types of dessert and baked items. These specialist culinarians will also need to keep track of the kitchen inventory dedicated to the dessert section and oversee the procurement of items in the kitchen to ensure smooth and efficient operations in their part of the kitchen.
Senior pastry chefs can also be handed the responsibility of managing the entire desserts section in a large fine dining restaurant, restaurant chains, or hotels. These pastry chefs will be responsible for designing a dedicated dessert menu for these establishments and will oversee the operations of several dessert sections in the establishment or across several branches of these businesses. These chefs will also work closely with the executive chefs of the chain to align the desserts section's offerings with the other parts of the establishment's menu.
Alongside these commercial food businesses, pastry chefs also offer their services in bakeries, candy stores, and cafes. Pastry chefs also have the option of home-cooking special items for guests that request in-home culinary services. Alternatively, experienced patissiers that have had their fill of working in the bakeries and kitchens also choose to train up & coming patissiers to ensure people never run out of good pastry chefs in the future.
What Education Does a Pastry Chef Require?
Now that you know what a pastry chef does for a living, you must be wondering about pastry chef education and the courses you require to begin whipping up those irresistible cakes behind refrigerated display cases.
The first aspect of becoming a pastry chef involves deciding whether you want to attend culinary school. Culinary schools train aspiring chefs in various aspects of culinary science and managing a commercial kitchen. There also exist several courses and electives within the culinary training program that can add up to a dedicated pastry chef education, and allow aspirants to get a taste of what lies in store for their future as patissiers.
The undergraduate course in the culinary arts often involves and leads to several apprenticeships at restaurants and hotels where the aspiring pastry chefs will work under senior chefs and create various recipes in the kitchen. Culinary school trains students to work in every area of the kitchen. Student and junior chefs work in several parts of the commercial kitchen, working their way up the kitchen hierarchy, and finally, choose to dedicate themselves to the pastry section. Dedicated courses and diplomas in desserts will aid your endeavors in specializing sooner.
Now if school isn't really your first choice, you must be thinking 'How to become a pastry chef without going to school?' and if it's even possible to skip the entire culinary school process altogether. The good news is that it is! Aspiring patissiers can follow an alternative career path to work their way up to becoming a pastry chefs. Aspirants can enter the field by getting a job in the industry and begin working under senior cooks and chefs to gain hands-on experience.
While education is one aspect of becoming a pastry chef, experience is equally important, if not more. By working your way through the kitchen hierarchy and by showing your potential to senior patissiers, you can gain much-needed exposure to preparing various types of pastries and desserts, improving your career prospects, and opening up several avenues for you as a pastry chef. However, it is still beneficial to have some form of formal education to back up your on-field experience as it offers you a perspective from the ground up and provides you with much-needed guidance in a commercial setting.
What are the Basic Skills Required to Become a Pastry Chef?
While the most essential requirements for becoming a pastry chef include an attention to detail, creative instinct, and a passion for creating many specialties in the kitchen, some of the basic skills required to pursue a career as a patissier include:
A basic understanding of kitchen appliances:

Pastry chefs will be required to operate

restaurant equipment

such as

commercial refrigeration equipment

,

commercial ovens

,

food processors

, and

proofing cabinets

.

Basic mathematical skills:

Pastry chefs will need to measure and mix various ingredients and will also need to keep a close eye on the time required for each step in various recipes.

Management abilities:

Commercial kitchens are not merely about the cooking, but also about managing ingredients and the workflow.

Time management:

Pastry chefs might have to prepare several different orders either simultaneously or within a frame of time to keep up with the orders and to address demand.
Now that you know how to become a pastry chef and what it truly means to be one, what are you waiting for? Fill out your application forms already, for the world can never have enough of sugary goodness!