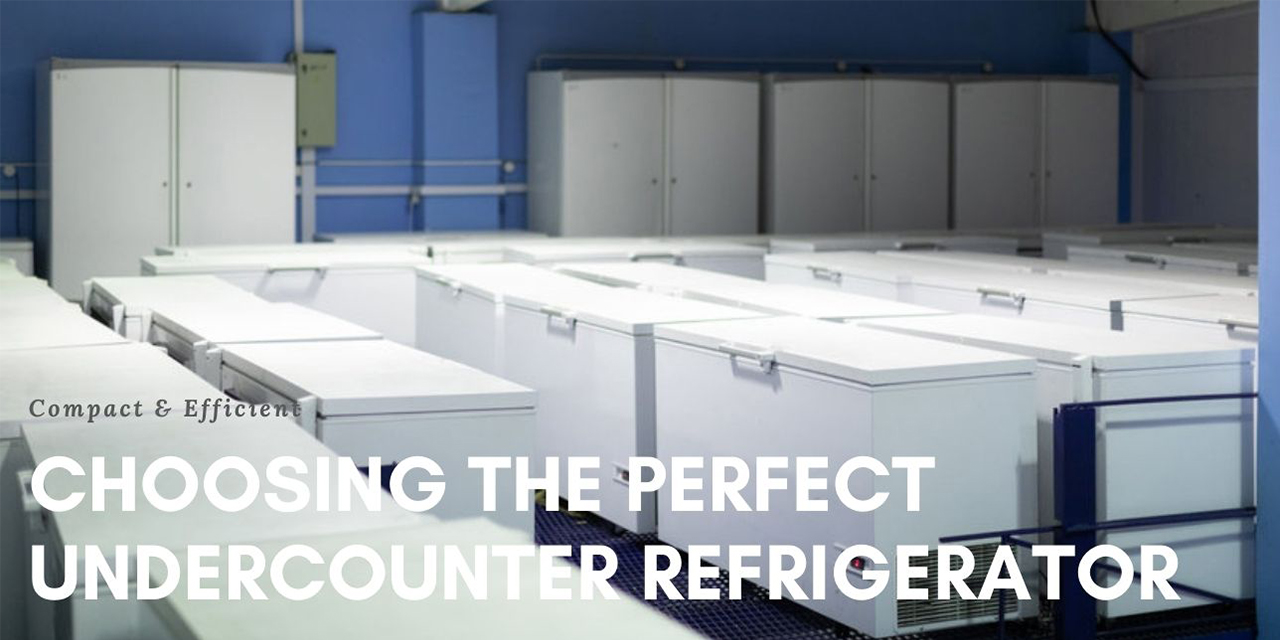 Undercounter refrigerators are the perfect solution for your cold storage needs when you're short on space, or in case you want to use up the undercounter area at your establishment. Some businesses might not have space to spare, however, they might need to supplement their existing cold storage and walk-in refrigerators. Undercounter refrigerators & freezers are perfect when you're faced with such a predicament. These models are also handy when you need to place cold storage in an area where the material within is easily accessible.
Commercial undercounter refrigerators are available in a variety of sizes, configurations, and with a large assortment of accessories. There also exist dual-temp undercounter refrigerators that offer both cooling and freezing sections in the unit. Whether you run a full-service restaurant or a fast food outlet, undercounter refrigerators can be a great addition to your existing kitchen arsenal. The various configurations and types of undercounter refrigerators are mentioned in the sections that follow.
Points to Remember Before Choosing an Undercounter Refrigerator
Here's what you should know before you invest your money in an undercounter refrigerator:
Don't forget to check how much space you're working with. Measure the space you intend on placing the unit in. Take into account the amount of space needed for opening doors or drawers, and also the breathing space required by the compressor.

Do your research and read up on the specifications of each unit you think is the right fit for your establishment. Pay special attention to the dimensions of each undercounter refrigerator or freezer.

Try to understand the utility of a commercial undercounter refrigerator in your establishment. Based on what you plan on using the unit for, you might require different accessories to go with the unit you purchase.

Ask the dealer about the warranty agreements and the maintenance schedule for the model of your choice. While undercounter refrigerators are simpler to clean and maintain when compared to larger refrigerators, it's important to understand how frequently they need to be serviced so you can avoid health penalties from the authorities.

If you're looking for more than just an undercounter refrigerator, consider buying models that have worktops so you get an additional workspace along with an efficient refrigerator. You can also purchase a chef base to accommodate both refrigerated spaces and cooking units in the same machine for increased efficiency and ease of use.
The Types of Undercounter Refrigerators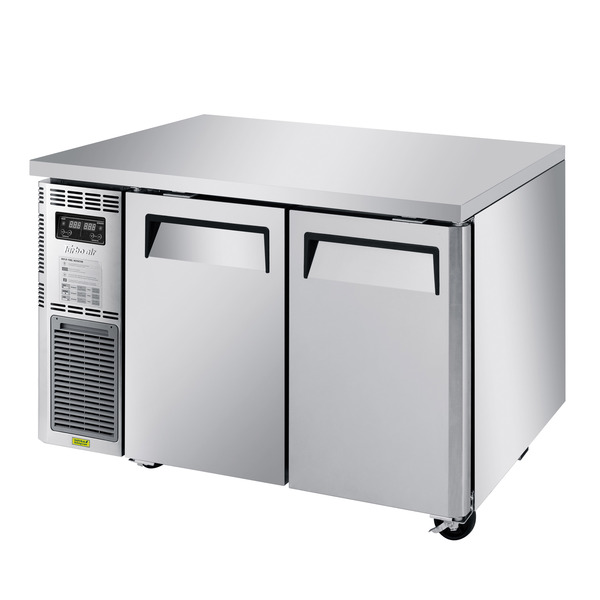 While commercial refrigerators and freezers comprise a single category in the classification of refrigerators, there exist several variations in these models. Choosing the best undercounter refrigerator for your restaurant will involve understanding the differences in these types and the advantages each of these variations brings with them. The different types of undercounter models are:
Undercounter refrigerators come in a variety of different height configurations. Apart from the several variations manufacturers add to their products, refrigerators are often grouped under these size profiles:
Standard 36 inch units:

Several manufacturers produce undercounter refrigeration units that are 36 inches tall. The height includes the legs or the casters depending on the model and your preference. Most available undercounter units comply with this standard measure and fit snugly in the space beneath most countertops in a kitchen.

ADA Compliant 34 inch units:

The Americans for Disabilities Act caps the height for countertops at 34 inches. ADA-compliant undercounter refrigerators and freezers will fit in the space beneath the countertops that have been built around the ADA guidelines. While these units consume less space, they also ensure you comply with the ADA guidelines in your commercial kitchen.

Short 32 inch units:

All undercounter refrigerators that are either 32 inches tall or shorter are grouped under this category. These models are ideal for establishments that do not have sufficient space under their countertop to fit a standard or ADA-compliant refrigerator. These units are also called built-in undercounter refrigerators.

Based on Width
Undercounter refrigerators have large ranges of variations when it comes to width. From snug 24 inch variants to wide 100+ inch models, undercounter refrigerators and freezers come with a wide variety of choices. Depending on the existing commercial refrigerators at your establishment, you can choose from an assortment of models to supplement the cold storage space available to you. The various options based on their width are:
Single door units:

Undercounter refrigerators that are under 36 inches wide have a single opening and are ideal for establishments that are not looking for too much undercounter refrigeration space. These models are ideal choices for beverage refrigeration in an undercounter space.

Dual door units:

Units that are anywhere between 36 and 72 inches often have two doors. These undercounter refrigerators are useful to establishments that need more than the bare minimum and want to store a considerable amount of material in their undercounter cold storage space.

Triple door units:

Most units that are wider than 72 inches will have three doors or more. These refrigerators are the best choices for establishments that are looking to make the maximum use of their available undercounter space. These large models are perfectly suited for full-service commercial restaurants, and can also be useful as undercounter bar refrigerators.

Based on Depth
Most undercounter refrigerators and freezers are between 30 and 36 inches deep. Manufacturers might come up with small variations in their products to market to customers with more specific needs. Shallow or deep models have different utilities, and the choice depends on the amount of space available to you in your kitchen space along with the quantity of material you intend on storing within your undercounter refrigeration unit.
Based on Door Configuration & Type
Undercounter refrigerators come with varied door designs and build. Here are the commonly available options for business owners:
Door-based models:

Most undercounter refrigerators come outfitted with doors. Depending on your establishment's requirements and utilities, you can procure refrigerators with either solid or glass doors. While the former is the most common choice, the latter allows employees to keep a constant track of the inventory stored within the refrigerator.

Drawer-based models:

While drawers reduce the amount of space available to you by a small margin, they compensate for it by offering ease of organization. Undercounter refrigerators with drawers are easy to clean, maintain, and store material in. They're the ideal choice for pizzerias, salad bars, and fast food outlets.

Mixed models:

Business owners can either customize or purchase undercounter refrigerators that have both doors and drawers to suit their operational style. This design allows businesses to make the best of both designs and maximize the utility of their undercounter refrigeration unit.

Freezers & Other Variations
Freezers are quite similar to their refrigerator counterparts, except for the temperature range they function in. Worktop refrigerators, on the other hand, offer countertop space for your employees to work with. These surfaces are often made of high-grade stainless steel perfect for food preparation. Worktops are also equipped with backsplashes to prevent the wall behind the refrigerator from getting dirty. Conversely, chef bases can hold anything from a commercial griddle to a full-fledged commercial fryer right above the undercounter refrigerator. This is especially useful in establishments that look to cook frozen or refrigerated food as soon as possible.
Commercial undercounter refrigerators are some of the most useful tools for business owners when they're looking to expand their existing cold storage space. They don't cost as much as conventional refrigerators, and certain models can also be customized to fit specific requirements of your establishment. Don't forget to compare at least three to four applicable models before you settle down on one unit to invest in for your commercial food business.