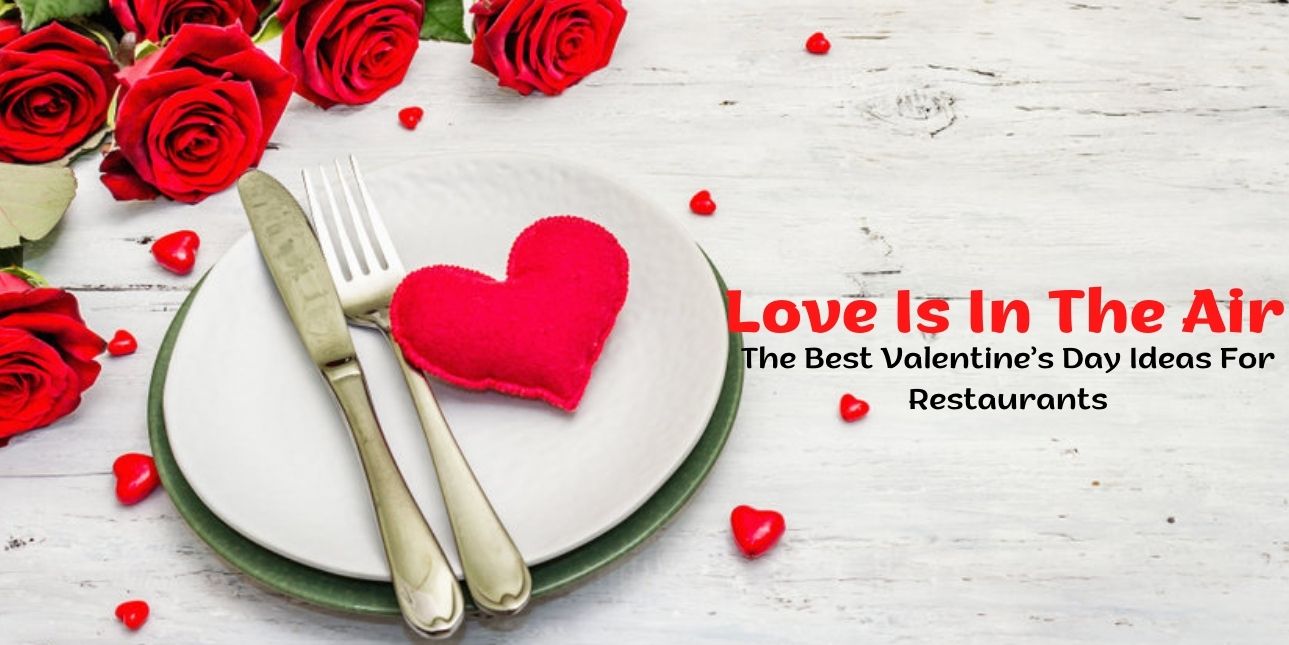 Valentine's Day is around the corner. It is the perfect occasion for couples to spend quality time with their loved ones. Some couples stay at home while others go out for dinners. For restaurants, this day brings many ideas and opportunities. Couples spend $70 to $200 on Valentine's day dinners, which can help restaurants generate more sales and attract new guests. Most restaurants go all out on Valentine's Day with planning and marketing.
In this blog, we discuss some curated Valentine's Day restaurant ideas, the best Valentine's Day restaurant menu, and the top cocktails that you can serve on Valentine's Day.
Curated Valentine's Day Restaurant Ideas
On Valentine's Day, restaurants are filled with couples and groups. Valentine's Day provides restaurants and foodservice establishments with the opportunity to generate more business. Here is a list of the best restaurant Valentine's Day ideas that you can implement on February 14th:
Valentine's Day Prix Fixe Menu:

You can serve the Valentine's Day prix fixe menu on 14th Feb, in which you can design and serve a multi-course meal for couples. With a fixed multi-course meal menu, you can increase sales and streamline your orders for that day. You can prioritize orders to help your staff serve patrons to the best of their abilities. With a prix fixe menu, you can serve delectable and premium dishes to make them memorable for your patrons. A prix fixe menu at upscale and premium restaurants can attract more customers on Valentine's Day. You can print special flyers and share your offer on social media channels like Facebook, Instagram, and Twitter.

Gift Cards For Customers:

On Valentine's Day, you can give special gift cards to customers who visit your restaurant. You can offer gift cards to everyone or offer them only to customers who spend above the desired amount. For example, you can provide gift cards to anyone who spends over $100. Gift cards are highly enticing for customers. They can also help in customer retention and loyalty.

Valentine's Day Meal Kit With Cocktails:

Most couples like to spend quality time at home during Valentine's Day. You can create a custom Valentine's Day meal kit with cocktails for those customers. This will help increase your sales and also expand your reach. You can create a single Valentine's Day meal kit for quick delivery and efficiency. Additionally, to make multiple cocktails in a short span for your patrons, you will need

chest freezers

, commercial ice makers, and reach-in refrigerators.

Host An Event:

You can make Valentine's Day exciting for your customers by hosting an event. You can host various events like couples' night, ladies' night, karaoke night, and mixers. You can start your marketing strategy after choosing the theme of the party. Promote it on social media handles, newspapers, and flyers. Additionally, you can provide exclusive discounts for couples and groups. Couples and groups spend more on cocktails and alcohol.
Valentine's Day Specials: You can serve alcoholic beverages and desserts for Valentine's Day. During Valentine's Day, you can encourage customers to try new types of desserts. This can also help you get customer opinions and feedback on new launches. You can attract more high-value customers by including high-value and premium dishes. Add rare lobsters, wine, and sweet delicacies to provide an unforgettable experience to couples.
The Best Valentine's Day Menu Restaurant
There are various popular dishes that you can serve on Valentine's Day. Primarily, a perfect Valentine's Day menu includes an appetizer, a main entree, a cocktail, and a dessert. You can also add a few special dishes to make the menu more exciting for couples. Here is a list of our favorite Valentine's Day menu ideas for restaurants:
Appetizers:

Make Valentine's Day more happening for couples with delicious and colorful appetizers. Creamy chicken vol-au-vent is a perfect appetizer for romantic dinners. These are flaky and are mostly loaded with savory fillings. You can fill vol-au-vents with ham, chicken, and mushrooms. With high-quality

restaurant equipment

, you can make the best vol-au-vents for your patrons. Hot creole shrimp dip is another popular dish that you can serve on Valentine's Day. It is a great appetizer, and you can increase the dish's spiciness with a hot sauce. You can also make it tangier with lime and lemon juice.

Entrees:

Valentine's Day entrees are the quintessential food item on the menu. They are the highlight of a romantic meal. You can serve braised lamb shanks as an entree. You can serve braised lamb with wine or LIT. Coq-au-vin is another classic chicken dish that has the right balance of flavors. In this dish, chicken is braised in red wine, making it more flavorful. You can serve this entree with mashed potatoes, fries, and boiled veggies. Pork ragu is the ultimate choice for most romantic dinners. You can serve ragu over pappardelle, pasta, or polenta.

Side Dishes:

Most customers spend over 2-3 hours during Valentine's Day dinners. Side dishes are the best accompaniments for cocktails and alcoholic beverages. You can serve wedge salad, which is a favorite among meat lovers. You can also serve a cheesy potato casserole, which is essentially a protein-heavy side dish. It is a cheesy and crunchy dish best served alongside refreshing Mojitos and Margaritas. Additionally, you can also serve baked sweet potatoes and lobster bisque for your patrons.

Desserts:

A romantic dinner date and meal need a great dessert. You can serve a chocolate brownie with vanilla ice cream, a crowd favorite. You will never go wrong with a delicious brownie. You can also serve strawberry tarts, deviled hearts, strawberry tiramisus, and blueberry cheesecakes after a delicious romantic meal.
Top Valentine's Day Cocktails
Make Valentine's Day special for your patrons with a love potion. You can serve a wide array of delicious cocktails that are perfect for Valentine's Day. Here is a list of delicious cocktails that you can serve during Valentine's Day in your restaurant:
Love Potion:

It is the perfect drink for lovers. It is made with berries, vodka, creme de cacao liqueur, and vanilla ice cream.

Cranberry Sangria:

Cranberry sangria is a cocktail designed to amp up the romance. Cranberries provide a juicy flavor along with fresh fruits. Add red wine, brandy, ice, club soda, and cinnamon to make it more enticing.

Grapefruit Mimosa With Mint:

You can make this cocktail with sweet mint, grapefruit, lime, honey, and white wine. Sparkling Prosecco is the perfect white wine for this cocktail.

Sweetheart Cocktail:

The sweetheart cocktail is a blend of vodka, cranberry juice, lime and lemon juice, and rose petals. Couples prefer this cocktail on special occasions like Valentine's Day.

Strawberry Daiquiri:

This ultimate love cocktail is made from fresh strawberries, vanilla-flavored whipped cream, vodka, and almond milk. Coconut rum is added to a daiquiri to achieve its heavenly taste.

Martini:

You can make a soulmate martini with vanilla rum, black cherries, razz rum, and cola. It is a fruity, flavorful, and fizzy cocktail.

Old-Fashioned Love Song:

Old-fashioned love song is a great drink that you can serve with bourbon, simple syrup, chocolate bitters, and creme de cacao. Stir it with a bar spoon until the ingredients are fully blended.
Celebrate Valentine's Day with assorted entrees, appetizers, side dishes, desserts, and cocktails. You can serve delicious and flavorful dishes for couples on this special day. You can implement various ideas and concepts to make it exciting for your customers and generate more revenue for your establishment.