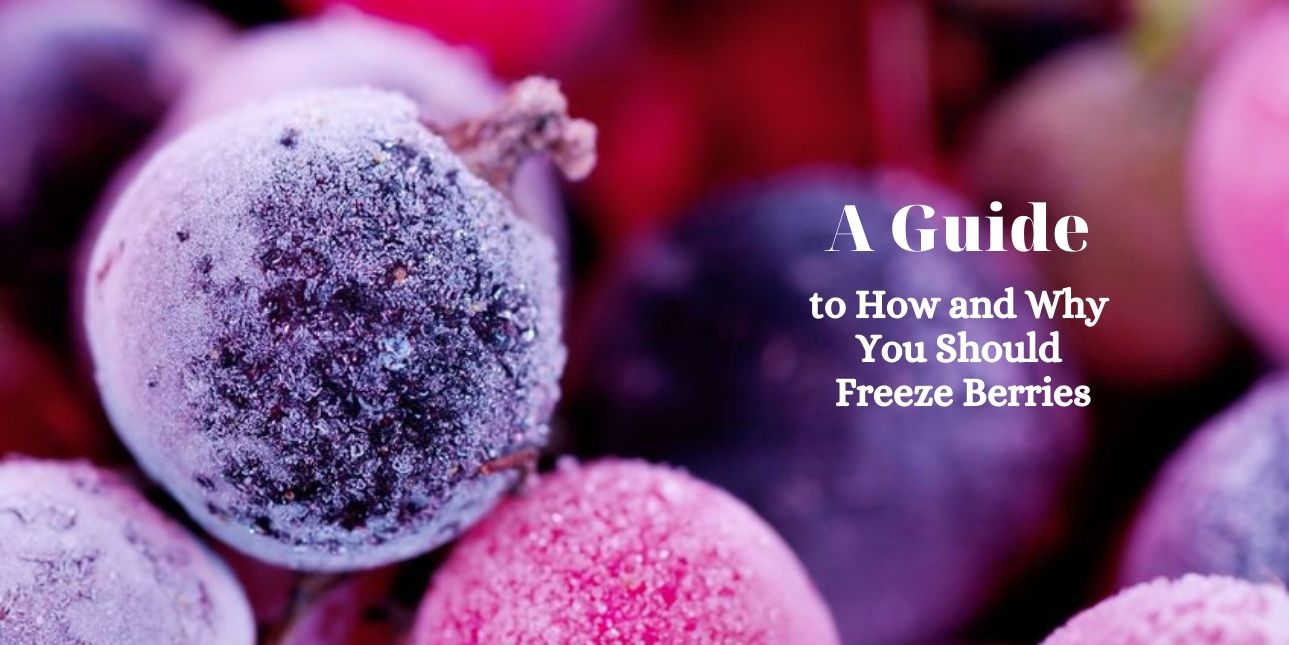 You're familiar with the expression "Fresh, never frozen," as made famous by several fast food commercials. A fresh, never frozen approach is appropriate concerning beef and other meats. However, it's not necessary when it comes to fruits, especially berries. Freezing berries after you buy them will ensure that they last longer, resulting in less waste, but that isn't the only benefit.

Freezing berries for use in your restaurant will not only save you time in the future, but also money. You won't find yourself constantly buying berries, or desperately trying to find ways to use them before they go bad. The use of frozen berries provides numerous benefits to your kitchen, and to your customers' health.

What are the Benefits of Freezing Berries?

Not only will freezing berries help you use them before they go bad, but frozen fruit retains full nutritional value as well. The idea that fresh fruits are more nutritious is a myth – frozen berries can actually retain more nutrients, if they're frozen correctly. This applies particularly to organic berries, which actually taste better after they are frozen.
The main benefit of freezing berries, however, is the most obvious one – reduced waste. Frozen fruit lasts longer than fresh fruit, which significantly cuts down on food waste in a restaurant.
By freezing berries, you are also ensuring that your customers can enjoy berries during all seasons. Fresh berries that are purchased out-of-season don't usually taste as good as when they are in-season. By freezing them correctly, guests can enjoy fresh-tasting berries all year long, while also getting the same nutritional value as fresh-picked berries.

How Should Berries be Frozen?

Berries are simple to store in the freezer, but it's important that you take some precautionary steps to ensure they will last as long as possible. Following this six-step process for freezing berries will greatly increase shelf life and give you the freshest possible taste:
1. Be Picky
When preparing to freeze berries, it's important to pick and choose the produce you decide to freeze. Look over the berries to be sure all stems are off, the berries are ripe, and there are no damaged berries in the mix. Frozen berries seem fresh only when they are high quality before being frozen.
2. Rinse
Rinsing produce is a must when serving fresh, and it is also a must when freezing them. Rinse the berries with cool water and make sure they are completely dry before storing. Dry them by laying them out on a dry, clean kitchen towel, or thoroughly patting them dry with paper towels. If you're freezing strawberries, hull them before freezing.
3. Line Them Up
Before freezing, place completely dry berries in a single layer on a rimmed baking sheet lined with parchment paper or plastic wrap.
4. Pre-Freeze Before Bagging
Once arranged on the baking sheet, put the berries (uncovered) into the freezer until frozen solid. They will need a few hours at minimum, but you can also leave them in the freezer overnight if it is more convenient.
5. Bag and Seal
Once frozen solid, store the berries in airtight plastic bags. Resealable storage bags are perfectly fine to use for freezing. When sealing, force out as much air out of the bag as possible. This will keep the berries fresh for longer periods of time.
6. Store the Berries
Once the bags are sealed and all the air is out, it's time to store them! Berries can last in a conventional freezer for up to six months, and up to a year in a stand-alone deep freezer or commercial freezer.

What can you Make with Frozen Berries?

Using frozen berries in the kitchen is almost as simple as freezing them! They are great to use in smoothies, baking, and when you want a homemade popsicle on a hot day.
Smoothies are a great use of frozen berries. You can do this at home, or in a restaurant that serves café-like drinks. Using frozen berries eliminates the need for ice in a smoothie. Ice tends to water down the drink, but frozen berries help keep the consistency you get from ice with a lot more flavor. If you don't want to use them as a smoothie drink, they're also really great for smoothie bowls.

Another option is to include frozen berries in refreshing drinks. This recipe for a chia berry agua fresca is a great use of frozen fruit, and also a nice summer drink to add to any menu. There are many other cold drinks that can be made with frozen fruit, that are super easy and sure to be crowd-pleasers.

Baking with frozen berries is a great way to use them as well. You usually can't tell the difference between baked goods that uses frozen fruit versus fresh fruit. Freezing the berries doesn't take away any of the flavor, so using them in baked goods such as blueberry crumble, coffee cakes, or crumb bars is a great idea.

Parfaits and jams are perfect ways to utilize those frozen berries. By freezing the berries for jams or parfaits, you can enjoy fresh-tasting fruit all year long. Standing over an oven to make jam in the heat of summer isn't ideal, but if you pack the ingredients away for a few months, it's the perfect thing to make on a cool fall or winter day.


Freezing Berries is a Good Thing

Don't dismiss the idea of using frozen berries in your restaurant as low-quality or "cheating." Freezing berries properly is a great way to make sure they're used before they go bad, which is a common issue with fresh fruit. You'll no longer have to worry about finding a way to use those raspberries before the dreaded mold creeps up, or serving your customers old produce. Freezing berries keeps them extremely fresh and doesn't sacrifice any nutritional value.

Frozen berries will last much longer than fresh-picked berries, especially in the correct freezer. If you're unsure of what freezer your restaurant should have, visit CKitchen to find one that best suits the needs of your business. Don't fear the freezer!