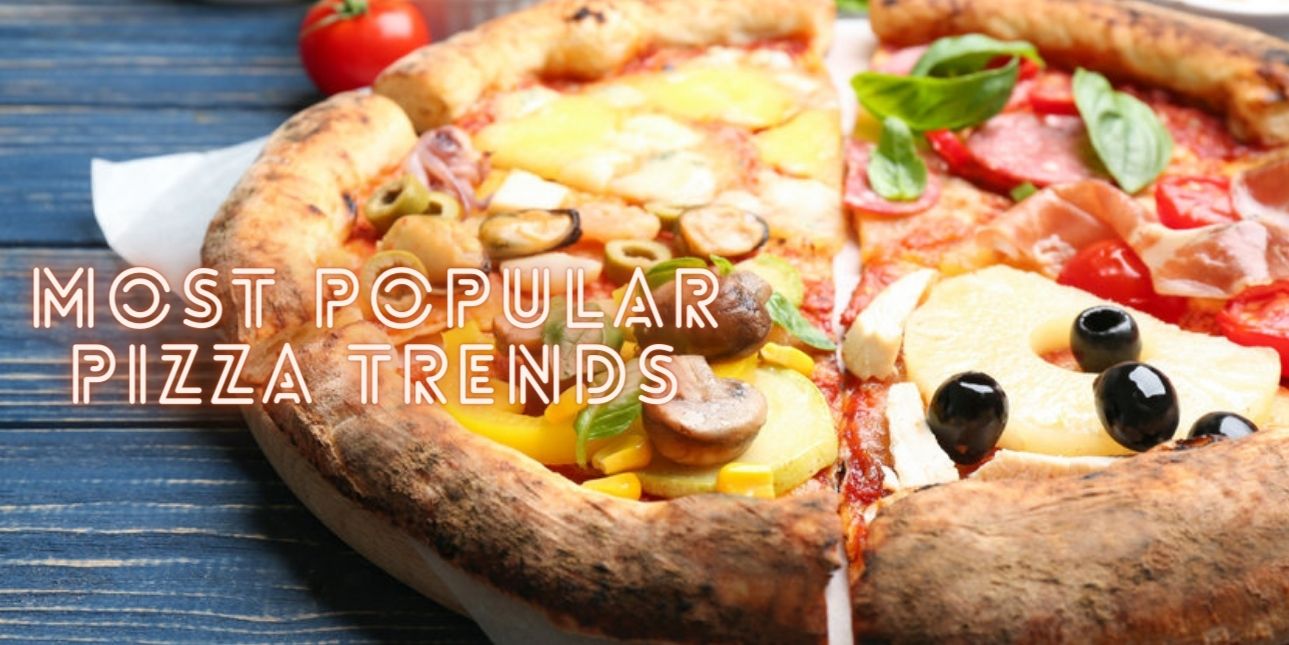 The food industry has gone through many changes because of the COVID-19 pandemic. Pizzerias and pizza deliveries saw a spike during the pandemic, as people started ordering pizzas by the bulk as they couldn't go out for meals and groceries. This has led to a surge of changes in the pizza industry.
In this blog, we discuss pizza trends, pizza sizes by the inch, popular types of pizza, the best pizza toppings, the best pizza combinations or combos, anchovies on pizza, and a list of essential equipment needed for pizzerias.
Pizza Trends
A new wave of pizza trends has taken the pizza industry by storm. Recent trends include some never seen before developments like 'Focaccia frenzy', where the pizza dough is made from focaccia dough, and even new pizza-to-order vending machines. These machines offer ready-to-eat pizzas at the click of a button. More trends include ceviche pizza, flourless crusts, frozen pizzas, and New Haven-style pizza.
Pizza Sizes by The Inch
Most pizzerias offer pizzas in 9", 12", and 16" sizes. But new or contemporary pizzerias are offering pizzas in customizable sizes like 3", 7", 11", or 17". This has become one of the hottest pizza trends of 2021. With this process, pizzas are cut in a rectangle shape, and pieces are chopped according to the customer's wishes or needs.

Popular Types of Pizza
There are various kinds of pizza that are a part of pizza joints, pizzeria delivery, and restaurant menus. Here we list some popular pizza types preferred by pizza lovers:
1. Margherita Pizza: Margherita pizza is an all-time favorite pizza. Traditional Margherita pizzas have thin crust, fresh tomato sauce, mozzarella cheese, and basil leaves. Margherita pizzas are simple yet flavorful.
2. Pepperoni Pizza: Pepperoni pizzas are one of the most popular pizzas. Pepperoni pizzas have a spicy, cheesy, and crispy texture made possible by the distinctive taste of pepperoni.
3. BBQ Chicken Pizza: BBQ chicken pizzas include cilantro, BBQ sauce, red onions, and unique fontina cheese toppings.
4. Hawaiian Pizza: Hawaiian pizza has a special and often controversial ingredient - pineapple. Hawaiian pizzas also include tomato sauce, ham, and cheese. They havea sweet and savory flavor that make them highly popular.
5. Meaty Pizzas: Meaty pizzas or meat-lovers pizzas have all types of meat in a single pizza- pepperoni, meatballs, sausage, and ham. These high-calorific value pizzas are ideal for team lunches or when people are extra-hungry.
Best Pizza Toppings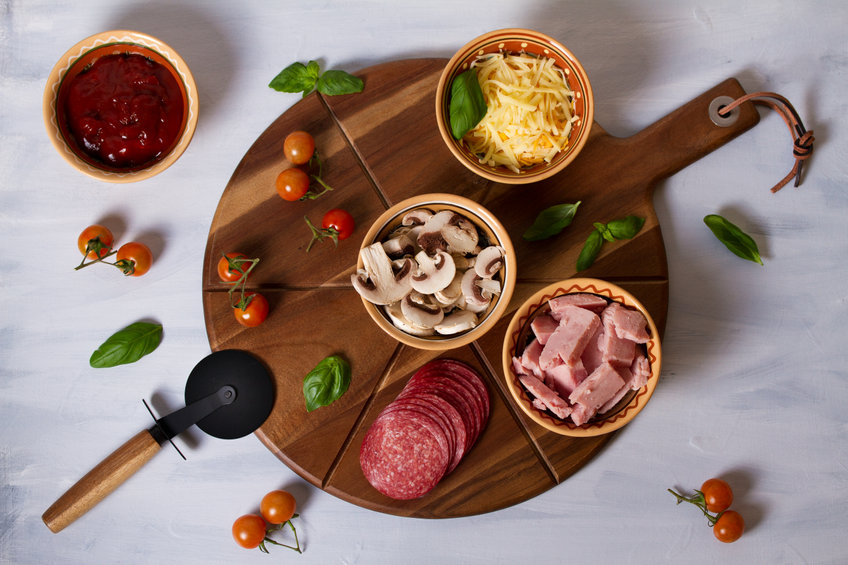 For pizzas, you can have an endless list of toppings. Various types of pizza toppings are popular worldwide. Here is a list of the most popular pizza toppings preferred globally:
1. Pineapple: Traditional pizzerias do not offer pineapple as a topping, as it is considered close to blasphemy. But many contemporary pizzerias and pizza chains have pineapple in their list of toppings. It adds a sweet, tender, and watery texture to any pizza.
2. Ham: Ham is used as a topping universally. Many pizzerias specialize in ham-based pizzas, and patrons love it.
3. Tomatoes: Tomatoes are a preferred topping and sauce for pizzerias. Tomato slices need to be carefully cooked; otherwise, the top of the pizza can become too watery or mushy.
4. Peppers: Peppers, like other spices, can add zing to any dish. Additionally, you can add peppers for garnishing pizzas.
5. Mushrooms: Many vegans prefer mushrooms instead of meat. Mushrooms are an excellent substitute for meat.
6. Olives: Olives, fresh or canned, can be an essential topping. You can purchase green or black olives depending upon your needs.
7. Onions: One of the essential veggies is onions; onions can provide a unique salty yet sweet taste.
8. Pepperoni: Without pepperoni, a list of pizza ingredients and toppings is incomplete. Pepperoni melts in the mouth and comes with curled-up edges.
Best Pizza Combinations or Combos
You can serve traditional pizza combinations or contemporary pizza styles at your establishment. Combination pizzas can be delicious and offer unique twists:
1. Pepperoni and Sausage: Pepperoni and sausage is a classic combination. In this combination, you can find the crispiness of pepperoni and the tenderness of sausage.
2. Veggie Pizzas: You can mix mushrooms, red onions, olives, tomatoes, and bell peppers to create the ultimate veggie pizza.
3. Hot Wing Pizza: This is a contemporary pizza combination, where you can serve chicken pizzas with buffalo sauce, blue cheese, and bacon.
4. Supreme Pizza: A supreme pizza is a pizza combination loaded with veggies and meat. Most supreme pizza toppings include pepperoni, sausage, mushrooms, peppers, and onions.
Anchovies on Pizza
Anchovies are simple yet flavorful. Anchovies on pizzas accentuate the taste of any pizza. You can use anchovies with various types of pizzas. You can use anchovies that are sourced from the Mediterranean region. Anchovies are rinsed and filleted before consumption. Additionally, you can directly purchase fillets of anchovy dipped in olive oil. They have a fruity and savory flavor.
How To Use Anchovy on Pizza
You can add anchovy fillets on freshly baked pizza. The heat from freshly baked pizza melts the anchovy and makes the pizza aromatic. You can cut or break a whole anchovy into two or more pieces.
List of Essential Equipment Needed For Pizzerias
Pizzerias or restaurants that serve pizzas need various pizza prep and storage equipment. Here is a much needed curated pizza shop equipment list for pizza shop or restaurant owners:
1. Kitchen Scale: Kitchen scales are essential for restaurants and pizzerias. You can weigh each ingredient carefully to create consistency in taste and style. With kitchen scales, you can weigh dough, veggies, cheese, meat, sauces, or spices depending upon your requirements. Kitchen scales are essential for low to high-volume restaurants or pizzerias.
2. Dough Scrapers: With dough scrapers, you can scrape dough easily. Opt for flexible poly dough scrapers or metal dough scrapers with handles. Poly dough scrapers have rounded edges. You can easily remove sticky dough from the mixing bowl with poly dough scrapers. With the rounded edge scrapers, you can scrape the dough at once. Additionally, you can purchase a triangle spatula for removing the dough from the sheet tray or proofing box.
3. Pizza Peels: You can move the pizza from the workstation to the pizza oven with professional-grade pizza peels. Most pizza peels come with perforations, which let excess flour fall. You can opt for metal or wooden peels for your pizzeria. You can prepare pizzas on wooden peels and place them directly in the oven.
4. Pizza Refrigerators: Pizzerias need various pizza refrigerators to store and prepare pizzas. With pizza refrigerators, you can prep multiple pizzas simultaneously. These versatile refrigerated prep tables or refrigerators come equipped with cutting boards, where you can prepare pizzas and sandwiches. Additionally, you can store various ingredients, sauces, and toppings in refrigerated compartments., You can also keep components and equipment organized with these all-purpose pizza refrigerators.