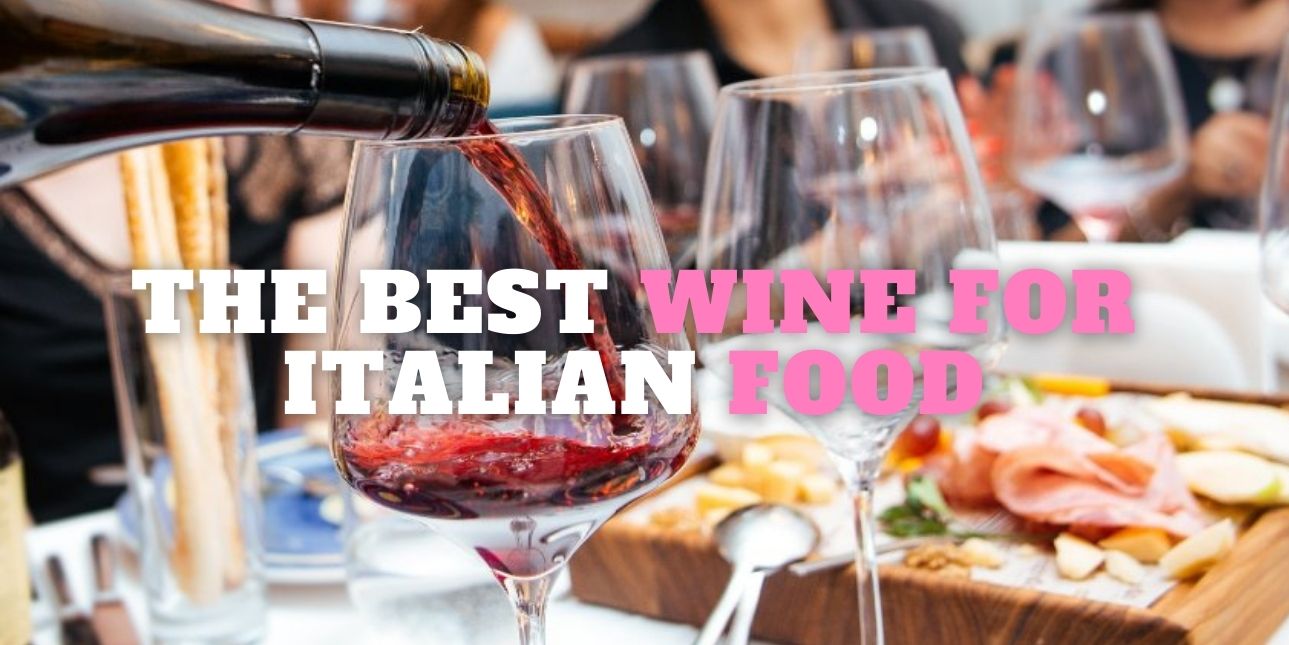 Taste is crucial when it comes to gourmet dining and Italian cuisine. There's a reason why Italian food and wine go together so well; the delicious combination of rich, herb-infused cuisine and aged, acidic wine makes for an unforgettable dining experience.
Choosing the right wine that goes with Italian food ensures that your patrons leave the restaurant satisfied. The pairing can make all the difference in making your meal simply exquisite, whether you're eating pizza, seafood, luscious thin bread, or a pasta dish.
The best wines for italian food
The best Italian wines are those that can stand up to their boldly-flavored ingredients while remaining light enough to not overshadow the subtle flavors found in light pasta and risottos. Darker meats, such as beef, pair well with substantial red wines, while lighter whites pair well with white meat.
Choosing wine from the wine list at a restaurant can be intimidating for many.
Here are some Italian food and wine pairing recommendations to help you pick the right match without any help.
Red wines
Any wine made in the Chianti region of Italy is referred to as a 'Chianti' wine. This dry red wine is made from Sangiovese grapes. It has an earthy flavor along with strong tannin content.
Chianti is a great match for red sauce dishes such as arrabbiata, marinara, or bolognese. It even pairs well with fresh pizza! The wine's acidity is quite similar to that of most tomato-based sauces, making it an excellent match.
Chianti Superiore and Chianti Classico are the two varieties of chianti wine available in the market. The former is a lighter kind while the latter is a darker one.
Barolo is a rich red wine produced in northern Italy's Piedmont area, with roots dating back over 2,500 years. The world-famous Nebbiolo grape is used to make this wine. It has deep red colors, robust tannins, and strong acidic flavors.
Rose, herbs, red berries and fruit, truffles, coffee, chocolate, and several other earthy characteristics are prominent in this wine. Barolo goes well with rare beef, steak tartare, and fillet steak, among other things. Game birds like ducks or pheasants are also well paired with Barolo.
For all our vegetarians out there, it goes nicely with thick and flavorful risottos. For a flavor rush, pair this wine with your favorite dark chocolate. Barolo wine also goes well with strong cheeses like gorgonzola, goat, and sheep's cheese.
It is one of the best red wines for Italian food.

The Cabernet grape is utilized in the creation of Cabernet Sauvignon. Cabernet can resist both high and low temperatures, and it thrives in almost all soil and climate conditions. These grapes are not only easy to grow, but they also have a lot of flavor and tannins.
With undertones of blackberry, black cherry, chocolate, eucalyptus, and mint, Cabernet Sauvignon has a robust black-currant flavor.
Cabernet Sauvignon is a full-bodied red wine that goes well with most tomato-based red sauces used on pizza and pasta. The wine is also known for its ability to pair well with fatty red meats like rump, ribeye, and sirloin steaks. This is due to Cabernet Sauvignon's ability to stand up to the flavors of rich meat without becoming overbearing.
White wines
This is one of the best white wines to pair with any Italian dish! Chardonnay is the most widely planted white wine crop and is named after the Chardonnay hamlet near Macon, Burgundy, France.
The flavor of Chardonnay varies based on the region where it is grown. The grape tends to release tropical fruit flavors of mango, papaya, and pineapple with gentle acidity levels when exposed to warm temps. In cooler climates, Chardonnay has tons of apple, peach, pear, and other citrus flavors, giving it its acidic nature.
Whether it's soup, pasta, meat, or seafood, Chardonnay pairs well with oil and cream-based recipes.
Seafood, in particular, may be the ideal dish for this white wine! Chardonnay pairs beautifully with light and delicate meals such as raw or lightly cooked seafood. Grilled fish, fish pates, and seafood risottos benefit from the gentle acidity.
Even though Pinot Grigio was created in Italy, it is now produced and shipped all over the world. The demand for Pinot Grigio is enormous all across the world, with many countries producing it.
The wine is frequently referred to as Pinot 'Gris,' due to the grapes having a characteristic gray color tone on their skin, and the word 'gris' means grey in French.
The wine has a light, refreshing, and zesty taste, with modest aromas of apple, florals, lemon, and melon. It has a dry mineral-forward, light-bodied character with a sharp finish.
Pinot Grigio is a light wine that works well as an aperitif before dinner. Because of the subtle flavors, you should serve Pinot Grigio with light, flavorful dishes. Pinot Grigio pairs well with a variety of salads and mild risottos It also goes well with less 'fishy' seafood such as halibut, trout, and scallops.
Sauvignon Blanc translates to 'wild white,' as wild grapevines were used for generations before being tamed by early winemakers.
Typically, white wines are light, crisp, and acidic. Because of their green and grassy flavors, they stand out above most other white wines. Wines from colder climates have lime or green apple flavors, whereas wines from warmer areas have passionfruit or peach flavors and aromas.
Sauvignon Blanc pairs well with herbs like parsley, cilantro, rosemary, basil, mint, and more. White meats, such as chicken, pork chops, and turkey, go well with this wine. Sauvignon Blanc pairs well with tilapia, sea bass, perch, haddock, crab, lobster, and clams. If you enjoy cheese, seek soft, briny varieties.
Wines that are stored perfectly at a regulated temperature can enhance any kind of cuisine. Store your wines in dark areas at an optimal temperature with our range of wine coolers and refrigeration equipment for your commercial kitchen.
Your favorite food will be elevated to a whole new level of flavor and luxury with the proper wine. Your favorite Italian restaurant will have a gorgeous wine list for you to peruse, and you'll be able to select the perfect pairing for your meal using the knowledge you've learned about wine pairings. Don't be hesitant to branch out from your usual wine selection and try something different for the perfect Italian meal.